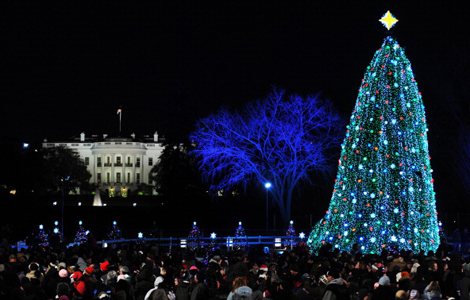 National Christmas Tree Hails from Meeker, Colorado Area
From the news desk at KRAI.com comes a story that should bring a good deal of pride to those of us living in the Northwest Colorado area.  The People's Tree, the Christmas tree that is displayed just outside the White House in Washington, D.C. each year has been chosen and it's coming from our neck of the woods.
The National Christmas Tree will be cut from the White River National Forest near Meeker, Colorado. Colorado lawmakers got together at the State Capital last Friday to make the exciting announcement.It's no small honor to be the state that furnishes the National Christmas Tree, and one Colorado has had only twice before.
The tree will be cut on November 2nd, and then will travel across the country over the next month, before finally being displayed at the U.S. Capitol  November 26th.
On November 6th the tree will travel through Meeker, Rangely and Steamboat.  A complete schedule of the traveling tree can be found  below.
National Christmas Tree Tour Schedule
-Nov. 6:    Meeker – Rangely – Steamboat Springs
-Nov. 7:    Dillon – Glenwood Springs
-Nov. 8:    Grand Junction – Montrose
-Nov. 9:    Cortez – Durango
-Nov. 10:  Pagosa Springs – Alamosa
-Nov. 11:  Colorado Springs – Denver
-Nov. 12:  Greeley – La Junta Nov. 13: Albuquerque, NM
-Nov. 14:  Amarillo, Texas
-Nov. 15:  Dallas, Texas
-Nov. 16:  Oklahoma City, Okla.
-Nov. 17:  Kansas City, Mo.
-Nov. 18:  St. Louis, Mo.
-Nov. 19:  Nashville, Tenn.
-Nov. 20: Atlanta, Ga.
-Nov. 21:  Asheville, NC
-Nov. 22: Charlotte, NC
-Nov. 23: Staunton, Va.
-Nov. 24: Allentown and Milford, Pa.
-Nov. 25: Joint Base Andrews, Md.
-Nov. 26: U.S. Capitol, Washington, D.C.
And, as thoughts of the National Christmas Tree bring thoughts of Colorado winters and cold snowy days, there's always Winter Carnival in Steamboat Springs to look forward to.  Read Steamboat Springs Winter Carnival Traditional. Fun, Unique to learn more about it.
Regards,
Charlie