A SHIFTING MARKET
The market is shifting and we can expect some complacency in the market for 6-12 months. In times of change, a lot of buyers and sellers step back and wait for the for such changes to shake out.
What's currently happening in Steamboat is similar to a false flat. You're on a bike climbing up a really steep, long hill and eventually the hill starts to level out.  You're still climbing, but since you are climbing at a much lower grade than before, it can sometimes feel like you are now on a flat or possibly even going down. The same trends can be seen in our real estate market.
Usually real estate appreciates at just under 4% annually in the US. During COVID in Steamboat Springs through the Spring of 2022, prices were appreciating at over 20—30% even 40% a year in some cases. Today, appreciation has slowed, significantly.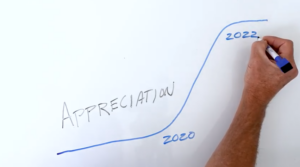 So now the big question is: Are prices dropping? The answer is yes! We've seen 18% of the active SF homes listed drop their asking price an average of 7% in the last 30 days. 35% of today's pending properties have seen price reductions as well. Does that mean the market is tanking? Not necessarily. Many properties that came on the market in the last 6 months were priced as if the market was continuing to appreciate, like it had been over the last two years. Today, home appreciation is leveling off.
The froth is coming off many of the properties on the market right now. But don't forget, if you owned real estate in the last two years, you've gained a significant amount of equity in your home. Now, shifting markets may be difficult to navigate, but they are also opportunities.
Check out the video for more detailed information on the Steamboat Springs real estate market.
Charlie Dresen 970-846-6435
Travis Crooke 970-846-9393
THE GROUP REAL ESTATE in Steamboat Springs, CO