A Steamboat Home Your Dog Will Dig
Oh goody, we are going for a ride! My humans are going to look at a home that's for sale (410 Kelhi Court) in a neighborhood called Fish Creek Falls in Steamboat Springs, aka Dog Town USA. I really don't care where we go, I just like to go!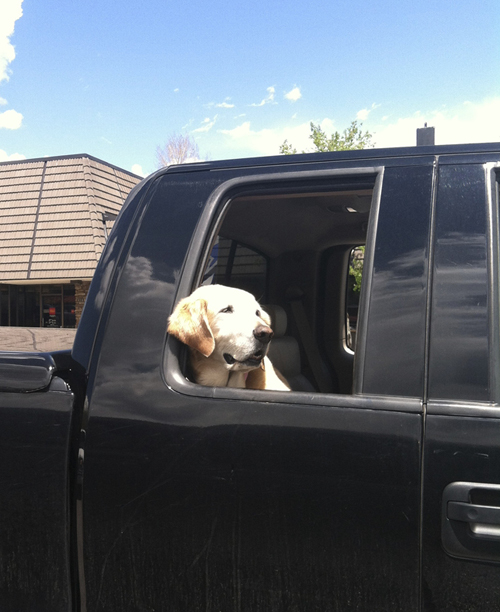 Things are starting off well, as we turn on Kelhi Court we realize it's a cul-de-sac. That means it will be a safe and quiet street for the kids and I. Then we turn into the driveway…..
…just look at that yard! Lush grass for rolling and chasing my tail and plenty of trees and bushes for, well, you know. I jump out of truck and sniff around. Yep, this is smelling good to me.
We go inside and right away Mom see's something she likes – easy-to-clean hardwood floors. I'm liking the spaciousness of this entryway. This will give me plenty of room to greet guests at the front door.
Dad points out the main level powder room and huge living room with access to the covered front porch. Front porch? Awesome! I can already see myself taking afternoon naps there.
There is a nice sitting area for the humans looking out to a great view of a mountain called Sleeping Giant too. I'm really digging this place.
Mom calls me into the kitchen where she is super excited about the granite countertops, island seating and its openness. She mumbles something about there being enough room for all of us in the kitchen.
And check this out – a family room attached to the kitchen and dining area. Perfect! I'll curl up in front of the fireplace and snooze a little while the kids play or do homework and Mom makes dinner.
And then Dad slides open the door in the dining room to the fenced backyard oasis. Now THIS is outdoor living! A big deck perfect for Dad's grill and patio furniture, that lush Steamboat grass I love so much and lovely flower gardens for Mom. The southern exposure guarantee naps in the sun too, my favorite kind of nap.
I need not look any further. This is it. This home and neighborhood are perfect for the family and I! Now, about that nap…
~ The Family Dog
To see more from a human's perspective, please watch the video.
Charlie Dresen
Real Estate Associate Broker |Sotheby's
Local Knowledge | Global Exposure| Defining Service
970-846-6435 | Charlie@SteamboatsMyHome.com
SteamboatsMyHome.com
610 Market Place Plaza, Steamboat Springs, CO 80487