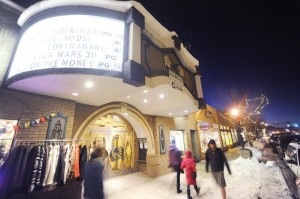 Hope for Downtown Steamboat Springs Performing Arts Venue Still Alive
According to an article published yesterday in the Steamboat Today, Friends of the Chief Has New Plan to Finance Theater Purchase, there is renewed hope that the purchase and renovation of the formerly fabulous (and notoriously haunted) downtown Chief Plaza Theater into a performing arts venue might be for real this time.
After months of difficulty with obtaining the financing necessary to close the deal and a failed USDA loan application, it seemed as if this deal was as good as dead.  A local non-profit group, Friends of the Chief, had been working for some time to finalize plans to purchase the building and each time success was close, everything seemed to fall apart.
For a great piece about real estate agents and their community, read my blog, Real Estate Agents Sell a Community, Not Just a Home.
Well, it looks as if the Friends of the Chief's luck might just be turning around.  Through what I'm sure has been a lot of hard work and persistence on the part of the Friends, plans are in the works for the purchase of the building by an LLC (made up of investors which have chosen to remain anonymous at this time) and reapplication for the USDA loan once the purchase of the building has closed.
For more about the Steamboat Springs Lifestyle, check out my blog, World's 25 Best Ski Towns: Yep, Steamboat's On the List
This is great news for supporters of the arts in Steamboat Springs!  A performing arts complex will bring exciting new opportunities to our downtown area for music, theater, dance and art and will provide a dedicated venue to support performances by local, regional and national acts.  This is just the breath of fresh air that downtown Steamboat Springs needs and I'm wishing this endeavor nothing but success.
Regards,
Charlie