New Home Construction Looking Up Locally and Across the Nation
A report issued by the Census Bureau last week stated that new home construction permits increased by a greater number than anyone expected this July.  According to a recent article published on the CNN Money website, Home Construction Hitting Its Stride, building permits rose 6.8% to an annual rate of 812,000 permits in July, the highest rate in nearly four years.  That number was up nearly 30% as compared with July of 2011. It's about time!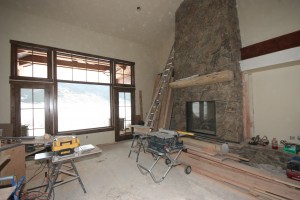 And, not only is new home construction picking up across the country, it's up locally too.  An August 17, 2012 article in the Steamboat Today confirms that the trend has taken root in Steamboat Springs, Colorado and the surrounding areas.  According to the article, the Routt County Regional Building Department, stated that while only 14 single-family home building permits were issued in all of Routt County during the first six months of 2012, 11 new building permits for single-family homes were issued from July 1 through August 10 of this year.
For more positive news about the improving real estate market, read my blog, U.S. Housing Passes a Milestone.
Now, while an increase in new building permits is historically typical for this time of year and the numbers still point to the fact that new construction is still way down as compared to Steamboat Springs' real estate heyday of 2005 and 2006, the recent uptick represents some much needed positive news in our battered real estate market.
Things are far from perfect, but a steady stream of positive numbers over the last couple of months provides solid support for a good deal of legitimate improvement in the state of the market, locally and nationally.  Let's keep looking forward to the brighter days that seem to be just around the corner.
For more insight into the recent market improvement, read my Steamboat Springs Market Report for June 2012.
Regards,
Charlie