Sharrow – Biking in Steamboat Springs just become safer
I saw the new markings on numerous city streets and mistakenly thought they indicated bike lanes. However, these markings, called "Sharrows", instead are meant to be a reminder to people that roads have many uses.  Something like a cross between an "arrrow" and "share".  Like ride this direction and share the road.  Hmmm, not sure how necessary that is, but if it's a step in the right direction for a  town seeking to become known as Bike Town USA, then it is important to community residents and the community at large. Having the moniker of Bike Town USA will, by association, increase the cycling infrastructure as well as tourism. So if sharrows help in that overall effort, then I for one, are all for them. More tourism means a healthier economy and that's a good thing. And even if they don't really intend to be bikes lanes, they draw your attention to them and the roads should be safer.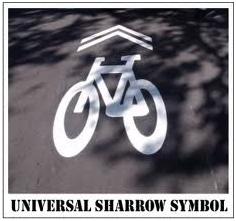 So what exactly does a sharrow look like? Well, they feature a bicycle with two arrows designating the direction of travel. Again, unless I've been transported to Europe and I have to drive on the other side of the road, I'm not so sure I personally need that kind of directional help, but if it's a stepping stone for Bike Town USA designation, then I'm all for it.
But don't confuse them with bike lanes, because sharrows are not bike lanes. Bike lanes are marked with a solid white line and are typically five feet wide. No other vehicles can drive, park or "idle" in a bike lane. Bike lanes currently exist on Oak and Seventh Streets, but look for Yampa Street to get bike lanes before the end of July.
I know you're wondering where you can find the sharrows in Steamboat Springs, well…they have been painted on narrower 24-foot wide roads throughout Steamboat that are used frequently by cars, pedestrians and cyclists…and runners which is where I first saw them. It won't take you long to find them; there are a lot of narrow roads in Steamboat Springs.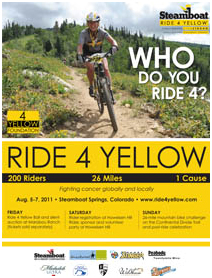 All kidding aside, these new road markings, the sharrows, are just the beginning of bigger initiatives to get Steamboat Springs, CO on the map as Bike Town USA. And if you're wondering what the next big initiative is…well right after those bike lanes appear on Yampa Street, you can watch or participate in the Ride For Yellow, taking place on Sunday, August 7th with activities leading up to it beginning Friday night, August 5th.  It's all part of the healthy, outdoor living that makes Steamboat Springs such a wonderful place to call home.
So paint on the sharrows, give us bike lanes and help us become a viable community in the biking world. Whether you're mountain or road biking, racing (there's a great Town Challenge Mountain Bike Race Series every summer) or just out for a Sunday ride…there's no better place than the Yampa Valley to get your fill and thrill on two wheels!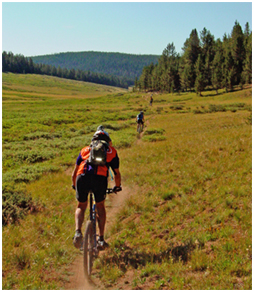 —For more information on real estate or questions regarding Steamboat Springs real estate or renting a home in Steamboat Springs, Colorado, feel free to call Charlie at 970-846-6435 or write me an email at: charlie@steamboatsmyhome.com.
Thanks,
Charlie