Steamboat Springs' Community Recycling Day
It's that time of year again when the color of the leaves are changing, the air turns crisp and I get to clean out the garage! Well, my entire garage may not get an overhaul but the recyclable items that I have collected and stored there for the past year will finally be taken to their new home and I will have that valuable garage space again.
This Saturday, October 12 from 9am – noon at Howelson Hill the Yampa Valley Sustainability Council (YVSC) and Yampa Valley Recycles will be hosting their 5th annual Community Recycling Drop-Off Day. Numerous materials will be accepted for free recycling while some of those hard-to-recycle items, like electronics, paint, and appliances, have a small fee.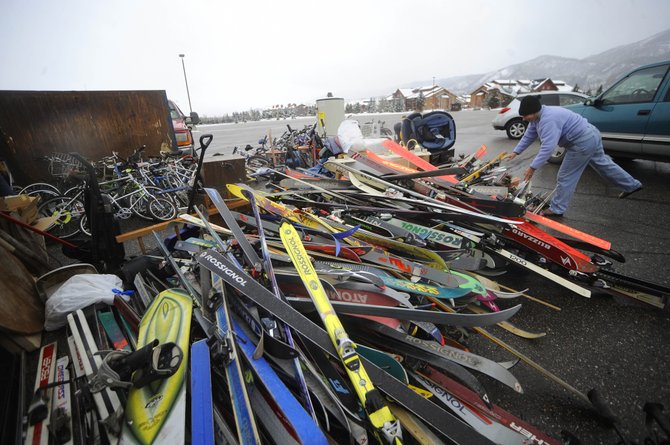 Please note that this is for residential recycling only, not commercial. YVSC asks for only one vehicle load per household. They will not accept trash, mattresses, furniture/couches, particle board, painted or stained rotten lumber.
Materials Accepted:
traditional, single-stream recyclables  (Green Machine, see recycling guide)
building materials,  NO: rotting, aged, or treated wood or scraps of wood, lumber under 6′ in length
electronics  (fees apply, below) (laptops, home/office phones accepted at no charge)
yard waste  (more than one load will be charged) (please visit www.yvsc.org for list of accepted yard waste)
skis
bikes
bike tires & tubes
gently used shoes
clothing and fabric not suitable for reuse  (must be at least 1-foot square in size)
wine corks (natural corks only, no synthetic corks)
packing popcorn
printer cartridges (fundraiser for Sustainable Schools)
shredded paper
cell phones (fundraiser for Sustainable Schools)
wrappers including candy bar wrappers, chip bags, energy bar wrappers, cookie wrappers, juice pouches, coffee bags, and Ziploc brand bags and plastic containers* (Upcycle fundraiser for Sustainable Schools)  *Ziploc brand only, please
scrap metal
working appliances
non-working appliances (fees apply for Freon removal- refrigerators and freezers)
phone books
plastic bags
cooking oil
spray paint
latex paint  (fees apply)
oil based paint and stains  (fees apply)
motor oil  (fees apply)
gasoline (in a safe container, and clean)
pool chemicals – still in original containers, 60% or more full
fertilizer – still in original containers, 60% or more full
other hazardous waste, see below under Hazardous Waste
shredded paper
vehicle batteries  (NO alkaline batteries: AA, AAA, 9V, etc.)
compact fluorescent light bulbs
fluorescent tube light bulbs  (residential only – no tubes longer than 6ft)
propane tanks and fire extinguishers (fees apply)
oxygen Tanks
If your items aren't listed, please email recycle@yvsc.org to make sure they will be accepted. For more details, please visit YVSC's website: www.yvsc.org.
Electronics that are FREE for this event only:
laptops
cell and home/office phones
All other electronics have the following fees:
Desktop CPU (mouse, keyboard): $10.00
Monitor: $15.00
Printer: $10.00
TV (Tabletop): $20.00
TV (Console or Projection): $45.00
VCR/DVD/Stereo, Alarm Clock, Etc.: $10.00 each
Desktop Fax/Scanner: $10.00

Other Recycling Fees:
Freon removal from fridges, air conditioners, etc.: $75
Propane tanks and fire extinguishers: $2
Motor oil:  $1 per gallon container
Latex paint: $2 per gallon container
Oil based paint and stains: $3 per gallon container


Pharmaceuticals:
Pharmaceuticals will NOT be accepted at this event. The Steamboat Police Department will be collecting those for recycling on October 26th during the National Drug Take Back Day from 10am-2pm. For more information the local police department at (970) 879-1144.
For more details, please visit Yampa Valley Sustainability Council's website: www.yvsc.org.
And in case you were wondering just how much material was collected at last year's event, take a look. The numbers are kind of staggering, don't you think?
425 cars (68% City and 32% County residents) came through the Howelsen Hill drop off location, diverting enormous amounts of waste from the landfill by recycling 12 yards of cardboard, 15 yards of single stream recycling, 90 yards of electronics, 40 yards of organic yard waste, 25 yards of metal, 30 yards of reusables, over 3100 pounds of household hazardous waste, 700 gallons of latex paint, 204 compact fluorescent lightbulbs, 200 pairs of skis, 22 bikes, 400 books, 125 ink cartridges, 200 gallons of plastic bags, 40 cell phones, 460 gallons of Styrofoam packing peanuts, 200 corks, 71 shoes, and 104 bike tires and tubes!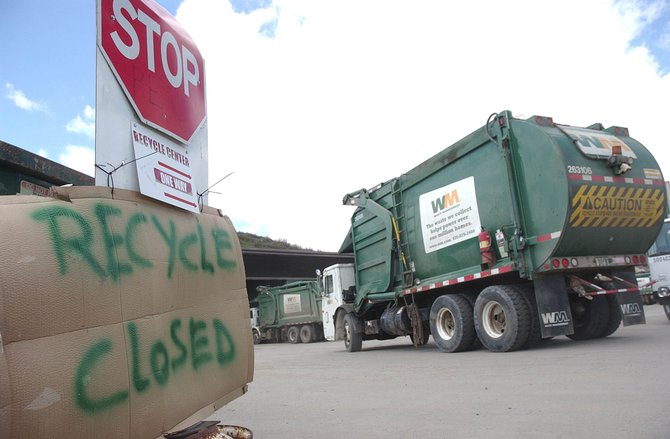 Regards,
Charlie
Charlie Dresen
Real Estate Associate Broker |Prudential
610 Market Place Plaza, Steamboat Springs, CO 80487