Steamboat Springs' Mountain Base: New Look, New Season
For anyone who hasn't been up to the Steamboat Springs mountain base recently, just wait until you see what they've been working on and how the landscape has changed. Depending on where you enter, you might be greeted by the new promenade walkway system that now directly connects the Torian Plum retail stores and restaurants to Gondola Square. The landscaping along the way is impressive and while it'll be snow covered in the winter, it will be beautiful in the summer and fall.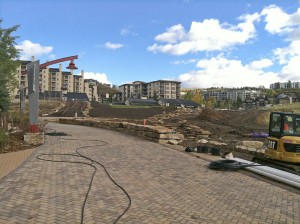 Work is almost complete on the Burgess Creek water feature which will now surface in and around the mountain base at various points. This water feature will be a prominent focal point in the warmer months as it will surface above ground complete with a built in water fall and various small pool areas. In the winter it will be diverted back underground where it's been flowing unseen for years.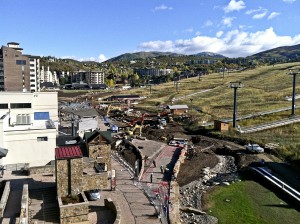 For anyone who has taken a spill on the slippery brick surface in Gondola Square (ski boots were definitely not made for walking), you'll be pleasantly surprised with the newly installed underground heating elements that will make all the main walkways easy (and safe) to navigate in ski boots as well as Uggs.
Last year the big news was the Bear River outside patio expansion with the new glass encased bar and outdoor seating area in Gondola Square. This year, right across from Bear River, is a brand new permanent music stage – ready to host local, regional and national bands throughout the winter and summer months.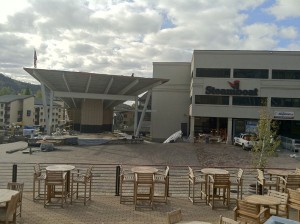 While Steamboat Springs mountain base isn't (yet) boasting amenities like Beaver Creek's ice skating rink, there are definitely improvements being made that will benefit visitors in both winter and summer seasons. Interestingly enough, there might also be some amenity enhancements on the ski mountain itself if The Ski Area Recreation Opportunity Enhancement Act of 2011 is passed as it's expected to. In a nutshell, when passed, this bill will allow zip lines, mountain bike terrain parks, disc golf courses and ropes courses on National Forest property…which if you didn't know is what Mount Werner, the Steamboat Ski Area, is located on. New downhill mountain biking trails are already under construction on Steamboat's ski mountain, and in anticipation of the Bill being officially passed, plans are already drawn up for a disc golf course at the top of the gondola.
So while it's been said that people come here to ski in the winter, but stay for summer's beautiful weather, it won't be long before we'll have a lot more than perfect weather to stay for in the summer. Steamboat Springs' mountain area will soon be a year 'round attraction for all ages.
—For more information on buying real estate or questions regarding Steamboat Springs real estate or renting a home in Steamboat Springs, Colorado, feel free to call Charlie at 970-846-6435 or write me an email at: charlie@steamboatsmyhome.com.
Thanks,
Charlie