Steamboat Springs Real Estate Report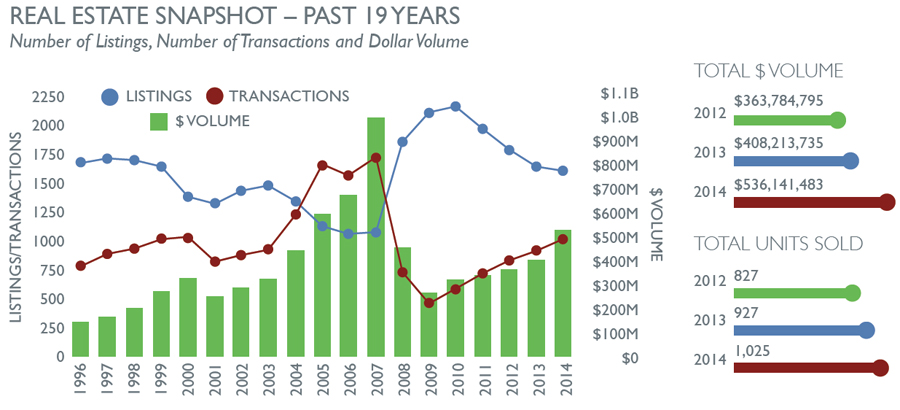 Real Estate in 2015 – Flat or Feverish?
Some experts believe that the 2015 real estate market will be more of the same slow and steady numbers like they were in 2014. But some experts, like Joshua Brown for Fortune.com, feel that "2015 may just be the year that the housing market goes ballistic". I don't necessarily think the market will go ballistic, but I do think we will see Steamboat's market continue to its upward momentum.
Here are some of Brown's reasons which I feel support our resort market's growth as well:
1. Low interest rates are coming to an end.
2. Millennials do not want to stay home forever and rents are at an all time high.
3. Employment among college- educated people is secure.
4. Wages are increasing. Brown noted that, When people get one-time tax cuts or bonuses, they save them. When people get raises, however, they buy stuff and improve their standard of living.
5. Credit standards are easing.
6. New construction is on the upswing. New construction is where the 2014 housing market was lagging.
7. (This is mine) Inventory is very low + demand is high = rising prices.
We are seeing an increase in new home construction already here in Steamboat Springs and our home values continue to rise steadily. All good things for our Ski Town USA housing market.
Local Steamboat Springs Market
January was a decent month for Routt County real estate transactions with $33.1M in gross sales and 71 transactions.  This was up +61.73% in total gross volume and up +2.9% in transactions compared to January 2013.
> 68% of January transaction volume was under $500,000 (28% in December)
> 21% of January transaction volume was between $500,001 – $1,000,000 (30% in December)
> 12% of January transaction volume was over $1M – $3M (30% in December)
>  0% of January transaction volume was over $3M (12% in December)
>  4 bank sales
> +61.73% in total gross dollar volume over January 2014
> +2.9% in transactions over January 2014
> 52% of transactions were financed / 48% were cash
January 2015 Routt County Real Estate Analysis by Land Title
National Real Estate Market
The S&P Case-Shiller Home Price Index for December 2014 reported continued slowdown of home price increases across the country, although nine cities saw price increases. The national index, which covers all 9 census divisions, recorded a +4.6% annual gain in December 2014 while the 10-City Composite and 20-City Composites recorded a +4.3% and +4.5%increase over December 2013.
Overall prices and sales of existing homes are close to normal, while construction and new home sales remain weak. "The softness in housing is despite favorable conditions elsewhere in the economy: strong job growth, a declining unemployment rate, continued low interest rates and positive consumer confidence," says David Blitzer in a statement, manager of the S&P Dow Jones Index Committee, who oversees the Case Shiller Home Price Index.
Let's face it though, we are living in different times.  Yes, interest rates are low but qualifying for a loan with today's tight credit conditions is challenging. Plus Millennials, young adults who would be first-time home buyers, approach home ownership differently than generations before them. Partly because they are settling down later in life and partly because Millennials can not afford to buy in their favorite metro areas where they currently live, so they rent.
Some markets, like Boulder and Denver, have a shortage of inventory and an abundance of buyers thus pushing their home values up. Because of these conditions I think we will see more new homes built this year than in the last few years.
December 2014 S&P Case Shiller Home Price Index
For questions about Steamboat's real estate market and the Steamboat lifestyle, please ask me. I am passionate about my community and real estate. Search all homes, townhomes and condos here.
Regards,
Charlie
Want to learn more about me?
Charlie Dresen
Real Estate Associate Broker |Sotheby's
Change Your Experience
970-846-6435 | SteamboatsMyHome.com
Charlie@SteamboatsMyHome.com