Steamboat Springs Real Estate Report
October was another good month for the Steamboat Springs real estate market. 129 transactions took place, even more than September 2013, making it the best month in 2013 so far for transaction numbers. A total of $54.8M in gross volume for the 2nd best gross volume month behind March's $55.8M.
> October 2013 dollar volume was UP +26.18% over October 2012
> Year-to-date dollar volume is UP +15.48%
> Transactions were UP +8.40% from October 2012
> Year-to-date transactions are UP +11.33%
> 63% of the volume was under the price point of $500,000
> 51% of the transactions were financed while 49% were paid with cash at the time of closing
As we head into the ski season, we will see a natural shift in residential sales in Routt County. The month of October we saw 76 residential sales with single family homes seeing the most activity. Condominiums sales should be picking up as the ski season heats up.
> Single Family sales = 36
> Condo sales = 27
> Townhome sales = 10
> Farm & Ranch sales = 0
> Mobile= 3
—————————————
> Average price for single family homes up +10% from 1 year ago. 
> Average price for Multi-Family (condos & townhomes) down -4% from 1 year ago.
> Average price for vacant Land in Routt County was down -20% from 1 year ago. 
National Real Estate Market Update
Home prices are up.  The latest S&P Case-Shiller show National Home Prices posting a 13.3% increase in September 2013 from September 2012 and a 3.2% increase from the previous quarter.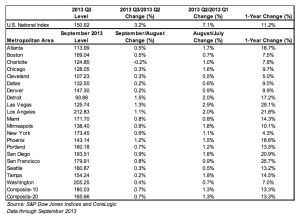 S&P/Case Schiller 10-City and 20-City Composite Home Price Index measures the value of residential real estate in 10 or 20 metropolitan areas of the U.S..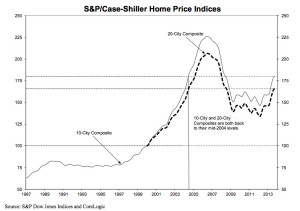 As we see home prices go up, that could have a negative effect on the market. Pending home sale have been dropping nationally for 5 straight months.  So as rising interests rates and real estate prices climbing, the affordability of real estate is declining. Thus, it's expected to see a softening of the real estate market in the coming months.
If you would like to learn more about Steamboat's real estate market and the lifestyle that we enjoy here, please contact me or follow me on Facebook, Google+, YouTube, Pinterest and Twitter. I am passionate about this community and real estate, let me show you why.
Starting January 1st, 2014, Prudential will become Steamboat Sotheby's International Realty. Elevating my already high level of service, I'm looking forward to the change.
Regards,
Charlie
Want to learn more about me?
Charlie Dresen
Real Estate Associate Broker |Prudential
Local Knowledge | Global Exposure| Defining Service 
970-846-6435 | 
SteamboatsMyHome.com

Charlie@SteamboatsMyHome.com