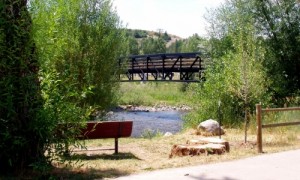 The Steamboat Springs core trail is one of my favorite aspects of Steamboat. The Yampa River Core Trail (YRCT) traverses seven miles across Steamboat Springs, Colorado and provides an excellent opportunity for exercise and recreation to locals and visitors alike.  The YRCT is one of 1600 rail-trails supported by the Rails-to-Trails Conservancy, a non-profit organization which has been working to create a nationwide network of trails from former rail lines and connecting corridors.
Beginning at Walton Pond, the trail continues alongside the Yampa River, winding its way through downtown Steamboat Springs amongst numerous scenic overlook sites, picnic areas and parks, until finally ending near the James Brown Soul Center of the Universe Bridge on the west side of the city.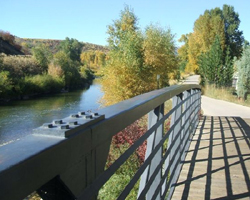 The trail is open year-round.  It provides access to hiking and cross-country skiing in the winter, while biking, walking, and in-line skating are all popular activities on the trail in the summer.  As the YRCT also parallels the Yampa River, fishing is also quite common and even if you don't fish, you can stop and take in the scenery and watch some fly fishing. 
If you choose to spend your day out on the trail, be aware that it is extremely popular and can become fairly busy on long summer days.  Please remember to be kind, courteous and respectful of those sharing the trail with you to help ensure that an enjoyable time is had by all.
Regards,
Charlie