The Bakery Opens in Steamboat Springs
Steamboat Springs (970-879-7735) now has a real home-town bakery, "The Bakery" to go to for breads, sweets, birthday cakes and more. It's about time too – especially for many of us who grew up in a town where visiting the bakery with mom was a big deal. Open just in time for Valentine's Day, The Bakery is sure to have some heart shaped cookies to go with the box of chocolates, flowers and card you'll be going out for soon. The Bakery will be a great addition to the west end of Steamboat's downtown business district and is sure to be a favorite among locals and visitors alike.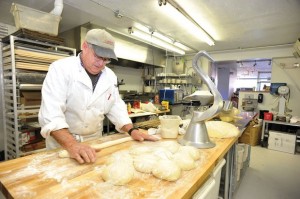 Doug Matthews, The Bakery's new owner, offers four to five fresh baked breads, a variety of pastries and other baked goods daily. Lunch is available as well, and by March, dinner will be served too. "If it comes out of the oven, we'll make it," says Matthews. Nothing like a home-made sandwich on fresh baked bread to warm you up on a chilly Steamboat Springs winter day! Now you can have a home-made muffin for breakfast and a taco at the new taco stand, Taco Del Barco,  while shopping in downtown Steamboat Springs.
Hours are 6:00a.m. to 6:00p.m. and will expand to 10:00p.m. once dinner is added to the menu. The Bakery is located at 1117 Lincoln Avenue, downtown Steamboat Springs across the street from Riggio's. Parking is available. So it's a double win, we have  another eating establishment in Steamboat Springs, and also a place to go for fresh baked breads and pastries to complete a home-cooked meal. Now I wonder if they'll have those numbers you had to take when you walked in my home-town bakery "back in the day"?
—For more information on buying real estate or questions regarding Steamboat Springs real estate  in Steamboat Springs, Colorado, feel free to call Charlie at 970-846-6435 or write me an email at: charlie@steamboatsmyhome.com
Thanks,
Charlie