THE WRITING IS ON THE WALL – LITERALLY
Artist Jeff Roth, the man behind some of the most well-known murals in downtown Steamboat, talks about what it means to become part of the Steamboat landscape.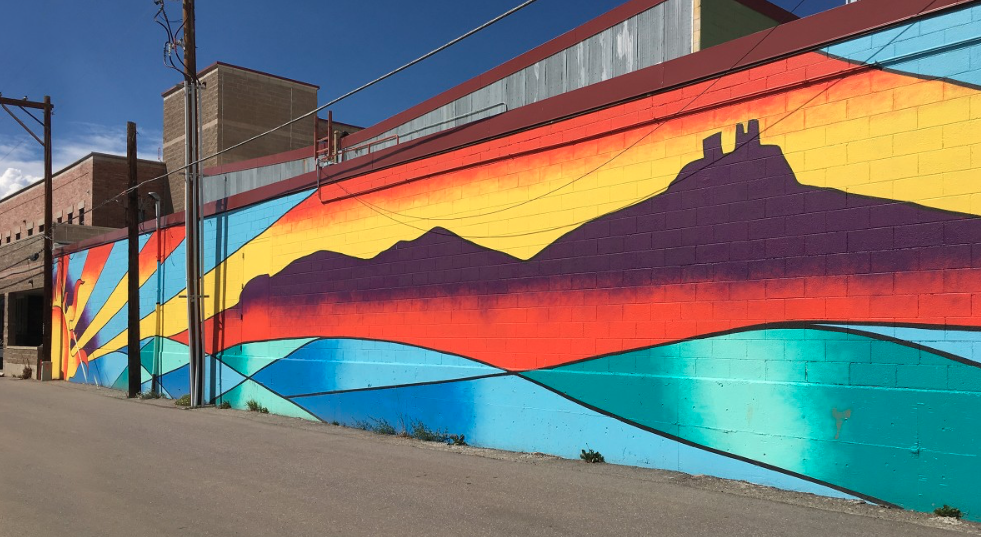 From Sleeping Giant to the Yampa River and Mount Werner, the Steamboat landscape is practically iconic; its sense of place is defined by its surroundings.
For artist Jeff Roth, becoming part of the Steamboat landscape in a more literal sense, by painting murals on two of its most visible downtown buildings, was not only a highlight of his career but the perfect ending to his Steamboat chapter.
Roth recently moved to Flagstaff, but his works "Yampa River Flow" a 130-foot mural on the side of the Natural Grocers building and "Wings" on the Bank of the West and Kali's Boutique building, have left their mark. As a photographer, graphic designer and teacher, Roth's approach to art is about more than paint and a brush.
"Wings" by Jeff Roth on the Bank of the West Building
In the six years that Roth lived in Steamboat, he became entrenched in the art community, teaching several art classes at CMC and volunteering his time to the Steamboat Arts Council. Roth was also instrumental in helping Steamboat receive its certification as a Creative District by hosting a tour for the delegates from the selection committee when they came to town. "I do all kinds of stuff," Roth says. "I taught just about everything CMC would allow me to teach. I've done some graphic design work, and I also do photography. I was a member of the Steamboat Arts Council and was pretty active in the community."
Roth is certainly well learned in the arts, with a Bachelor's Degree from Rocky Mountain College of Art and Design and a Master's Degree from the Vermont College of Fine Art. But it wasn't until Kim Keith, Executive Director of Visual Arts for Steamboat Springs Arts Council, approached Roth to do his first mural in downtown Steamboat that his art found its boldest and most public expression yet. "Kim wanted to do something for the delegates coming for the Creative District designation that had more of an urban feel, like in bigger cities where you find these interactive murals. She had the idea of doing wings, so I did some drawings and we settled on the design for the piece that would become 'Wings' in a matter of a few days," Roth says.
A Colorful Display on the Mambo's building, created by Fernando Maldonado
Roth first drew the design freehand in chalk, which allowed him to erase and modify before he began painting. It wasn't until he was tasked with creating "Yampa Valley Flow", a 130-foot wide mural on the side of the Natural Grocers building, that he had to stretch his techniques to accommodate such a large canvas. "That one required a scissor lift and to get a straight line I had to run cordage, which is kind of like rope, from an anchor point on the roof," Roth says. There was also more prep work involved, peeling paint and then priming the large wall so the colors would really pop. "I used rollers instead of tiny brushes, and I used house paint, which was a first for me, but we wanted it to be able to resist fading and weather."
Roth says the idea for "Yampa Valley Flow" was inspired by Steamboat's more natural landmarks. "I wanted to stay away from the more commercial and stereotypical iconography that is always associated with Steamboat, like the Olympics, horses and skiing, and bring the images that are timeless; the land, the sunrise, the mountains, Sleeping Giant and Rabbit Ears," Roth says. "I wanted it to be what this place is really about, and this place is about the land."
"Mule Deer" by Bobby MaGee Lopez on the Steamboat Meat and Seafood Company Building
Roth also had to consider that the wall is south facing and gets sun all day long, so he used bold, vibrant colors that would resist fading. He also wanted it to be a warm scene, always having favored the summer season over winters.
"You can see it from so far away," Roth says. "You can see it from the top of the mountain and the ice rink and the river. It's such an honor to have done something that will remain part of the community we all love. It feels good to have a piece of me there."
For more information on Jeff Roth's work, visit www.studioroth.com.
Post courtesy of steamboatsir.com