Up 64% – Steamboat Real Estate Posts Great Numbers
For those who were seeing the glass half empty as mud season rolled into November, there was definitely more to be thankful for than family, friends, football and turkey on the horizon. What we lacked in snow fall, we made up for in real estate sales in November. November real estate sales were great. And looking at the recent absorption rate, I'd say the Steamboat Springs Real Estate Market is looking much better.
( Please note: I recently blogged about the attributes of "knowing the market." The stats came out today with a rather large error. I caught it and researched it. There was not a $11 million dollar transaction in Steamboat. So I re-calculated the numbers with a more accurate sales price. The graph below is with the corrected amount – see *)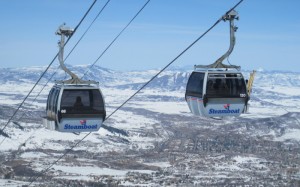 125 transactions netted just under $44M * in gross sales volume which equals a 64% increase in gross sales over November 2010. In a year full of negative comparisons, this huge increase versus last November has narrowed the year-to-date gap in sales volume to under -10%. The number of transactions year-to-date is down 27% versus last year, but up 34% from last November.
Dare we say that Tim Tebow's (Denver Bronco's QB) magic might be rubbing off on real estate sales in Steamboat Springs? Sometimes you just have to believe that value is appreciated, and we sure have a lot to offer here in beautiful Steamboat Springs! So our 4th quarter is shaping up to be potentially "Tebow-like" here in the Yampa Valley.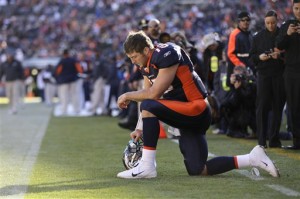 As the ski mountain opened on November 23rd with the annual SSWSC Scholarship Day fund raiser, the community began coming to life with the start of the ski season. With only weeks until Christmas, the snow finally starting to fall, hotels and condos filling up and the ski mountain opening up new lifts and runs "the season" is upon us!
View entire NOVEMBER Real Estate Report – but remember the $11 Million sale is wrong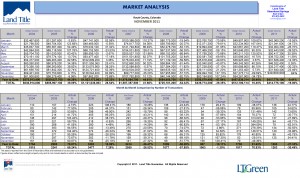 Highlights from November Routt County Real Estate Report
* 11 transactions were $1M plus.
* Bank sales were up from October (6) with 15, but still down from September (18) and August (17).
* The Mountain Area still ranked #1 in Sales Volume and number of Sales Transactions (net of time-share/interval sales) with $20.4M in Mountain Area sales comprised of 36 transactions.
The Highest Priced Sale and Price Per Square Foot (PPSF) for November 2011
11/21/2011 $4.200,000 (estimated) Catamount Ranch Subdivision Lot 8 aka 33800 Catamount Drive – 5 Bedroom 10 Bath YOC 2000 with 10,358 SF Living Area on 7.04 AC Land.
Sales over $1.5M in November 2011
11/29/2011 $2,475,000 Robbins Subdivision Lot 117 aka 0674 Steamboat Boulevard – 5 Bedroom 6 Bath YOC 2007 with 7,305 SF Living Area on .60 AC Land.  PPSF is $338.81.
—For more information on buying real estate or questions regarding the  Steamboat Springs MLS in Steamboat Springs, Colorado, feel free to call Charlie at 970-846-6435 or write me an email at: charlie@steamboatsmyhome.com
Thanks,
Charlie