Upcoming Uniquely Steamboat Events & Shenanigans
There is always something to do or some sort of celebration going on in Steamboat Springs. Our town is lively. Some of the events are unique to Steamboat, honoring our western roots with a little Ski Town USA folly, like the ones coming up.
Monday, January 20 – 40th Annual Cowboy Downhill


Have you ever seen ProRodeo cowboys downhill ski? Well here's your chance. 40 years ago former Olympian and Director of Skiing for the Steamboat Ski Area, Billy the Kidd, and 6-time All-Around World Champion Cowboy, Larry Mahan, decided to invite some of the countries top cowboy to the slopes for some fun. Participants and spectators enjoyed the downhill shenanigans so much that the 

Cowboy Downhill

 still takes place today with over 100 professional rodeo cowboys making their way to The 'Boat to slalom and "Stampede". It's a hoot!

Cowboys skiing to the finish line during Steamboat's Cowboy Downhill. (Photo credit – DenverPost)

 Wednesday, February 5 – Sunday, February 9 – Winter Carnival
For 101 years and counting, the Steamboat Springs Winter Sports Club has been hosting our county's longest running Winter Carnival west of the Mississippi. This uniquely Steamboat event is an opportunity for neighbors and visitors to gather and celebrate winter. But this is not just your typical parade and fireworks show – oh no. Imagine kids on skis and snowboards being pulled by horses down Lincoln Ave, an adult shovel race, skiers jumping through fiery hoops, torchlight parades, exhibitions, a snowy downhill mountain bike race, the famous "Lighted Man" and more! Make your reservations today, with entertainment like this accommodations go fast.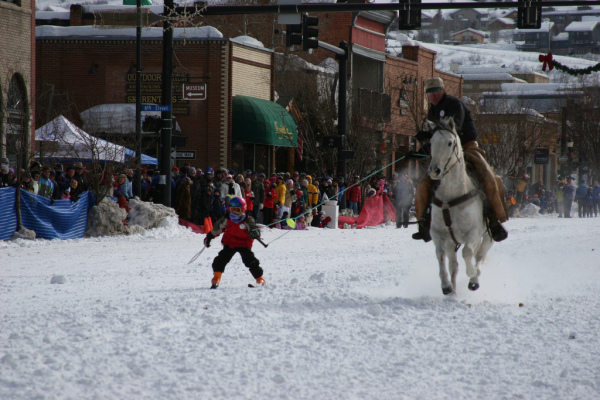 As always, if you are interested in getting to know our market and looking at real estate during your stay here in Steamboat Springs, Ski Town USA, please contact me. I am passionate about this community and its real estate.
Regards,
Charlie
Charlie Dresen
Real Estate Associate Broker | Sotheby's
Local Knowledge | Global Exposure | Defining Service
970-846-6435 | Charlie@SteamboatsMyHome.com
SteamboatsMyHome.com
610 Market Place Plaza, Steamboat Springs, CO 80487