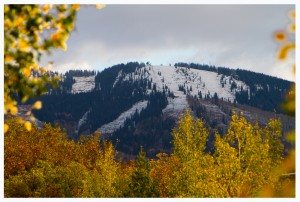 With fall color looking wonderful, Old Man Winter decided to try a new color.
It's official – fall is quickly turning to winter in Steamboat Springs, Colorado and all eyes are on the ski mountain that is white on top for the first time since well, early July to be honest. Well over 400 inches of snow fell last winter and it kept falling through June, but now let's fast forward to
Today it's looking like quite a winter wonder land – it's been snowing since early this morning and the grass is almost covered in town. The ski mountain is shrouded in cloud cover, but if it's sticking in town, it's definitely sticking on the mountain…and that gets all the locals thinking about opening day, which by the way is the day before Thanksgiving, November 23rd.
Steamboat Springs is never the first Colorado ski resort to open, that honor is usually a battle between Loveland and A-Basin both of which open, with help from snow making machines, by the third week of October. Steamboat Springs' opening day is assisted by snow making machines as well, and those will start running as soon as there are sustained over-night temperatures below freezing. It won't be long until the familiar sound of snow machines will be heard in the early morning hours before the sun comes up, signaling the beginning of preparations for what is always an exciting time of year in Ski Town USA®.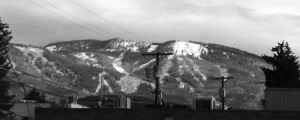 While the fluffy champagne powder Steamboat Springs is best known for isn't falling yet, the initial base layer is coating Mt. Werner as of early October. In 6 short weeks it'll be time to start calling the snow report hotline upon waking up on a Saturday morning with fingers crossed that the recording will say, "Good morning skiers and riders there's 10 new inches of fresh powder since the mountain closed yesterday." That's the perfect start to a weekend morning – football can wait, Steamboat Springs' locals have an epic powder day to enjoy first.