The 3 Best Things About Moving to Steamboat Springs, Colorado
I just asked a friend who recently moved here what the 3 best things she liked about moving to Steamboat Springs. Her quick response was:
–  The People
 – The Wildlife
 – The Sunsets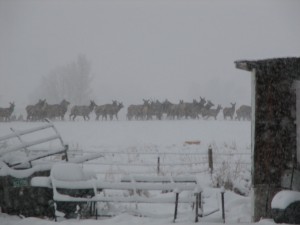 People
Steamboat Springs is filled with wonderful, friendly people. Honestly. Everywhere you go, from the lift operators, to the store clerks, to your neighbors, you are greeted with smiles. I think it comes from living in such a great place and Steamboat attracts energetic, happy people.
Wildlife
 Steamboat Springs is located in the heart of the Rocky Mountains. We are surrounded by ranch land and mountains. The connection to nature is just automatic. Even when you visit the Bud Werner Memorial Library you have a connection to nature. You often see fishermen from the numerous library seating areas that overlook the Yampa River just yards away. It's pretty handy to have a river full of fish run through town.  In the winter especially, it is not uncommon to see large Bull Elk foraging in someone's backyard.
Sunsets
Colorado is known for it's sunshine and Steamboat Springs is no exception. We have wonderful long, warm summer days, and even better, snowy winter days. Unlike the front range of Colorado, we tend not to have high winds which means we are outside a lot in the summer enjoying our evenings. Browse the MLS in Steamboat Springs here.
There are many different reasons to love living in Steamboat Springs but for at least one woman, sunsets, elk, bear, fish, and happy people are what she noticed first.  Many things create a community and it's not just skiing, hiking, biking, rafting, fishing, shopping, and dinning. But all those things do help.
If you want to learn more about Steamboat Springs, give me a call.
Charlie
970-846-6435