A DAY IN THE LIFE OF A RODEO COWBOY
It takes a lasso and a skilled rider to catch up with Cole Dorenkamp, who has competed in the Steamboat Springs Pro Rodeo Series. Steamboat Sothebys thought it would be fun to get a unique perspective on the Steamboat Springs Pro Rodeo Series and what it is like to be a rodeo cowboy.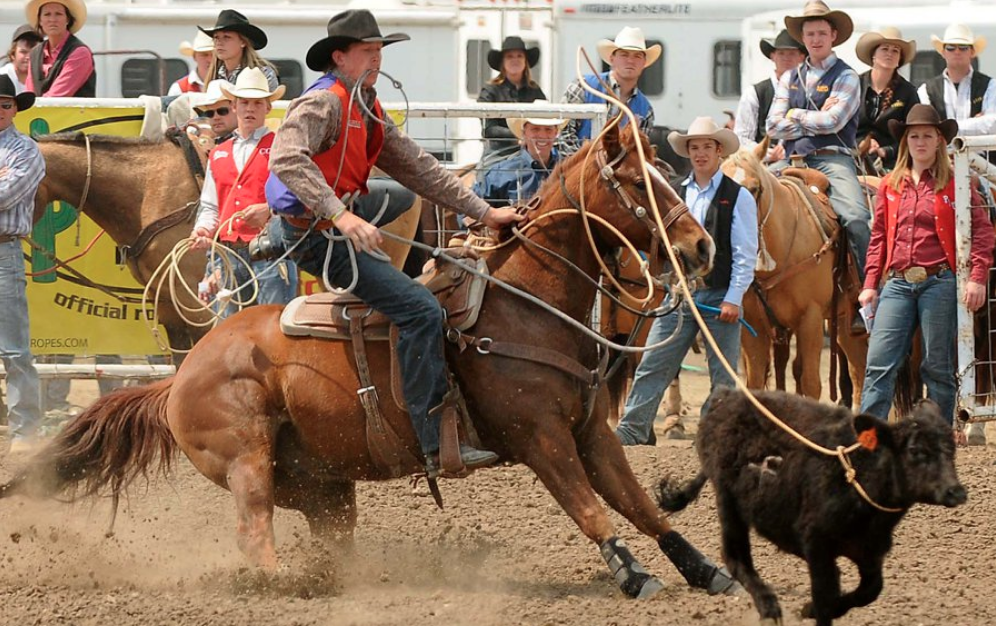 Cell phone reception cuts in and out as Cole Dorenkamp heads south to Texas to take his horses to the vet, for no other reason except to make sure they're ready for the Greeley Stampede over the Fourth of July weekend. The way Dorenkamp explains it, a cowboy is only as good as his horse. Life as a rodeo cowboy means lots of time on the road, mostly to places that don't have great phone reception and Dorenkamp wouldn't have it any other way. Raised in a rodeo family, Dorenkamp can't even remember the first time he got on a horse. Competing wasn't so much a choice as his birth-right.
Dorenkamp is a regular at the Steamboat Springs Pro Rodeo Series, where you can watch him compete in Team Roping as the header – the guy who catches the steer's horns – and steer wrestling. "The Steamboat Rodeo is competitive, for sure," Dorenkamp says. He says there's a lot more to competing in rodeo than meets the eye. "A lot of it is mettle," he says. "And the horse is even more of an athlete than I am." After a half a dozen dropped calls, we were finally able to catch up with Dorenkamp to talk about what it takes to be an all-around cowboy.

How old are you and how long have you been competing in rodeo?
I'm 28 years old and I grew up in Lamar, Colorado, which is a long ways from Steamboat. I've been competing since I was a little kid. My dad and his family competed in rodeo and I've been around it forever. I don't even remember the first time I got on a horse. As soon as I was big enough to get on one, I imagine.
What kind of training is required to stay competitive?
Quite a bit, really. I practice when I'm at home; I have an arena at my house. You have to keep your horses in good shape and exercised. If your horse isn't in good shape, you're not going to win anything. Your feeding program also means a lot. I grain my horses and get them supplements and the stuff they need to stay strong and healthy. I'll take them to the vet every three months to get them checked and make sure everything is going good. I try to get them exercised about every day. They're as much, if not more, athletic than I am.
What makes a good rodeo horse? How long can a horse stay competitive?
You hope they can stay competitive for a good 10 years. It takes a while for them to get good. They're probably 10 years old before they're mature and you hope they'll last another 10 years after that. You need them to be mature minded so they just stay relaxed because the rodeo life can be pretty stressful on them. You have to travel all over and you're in a new place all time. When we go to Steamboat, there're a ton of people, and at my house they see no more than three people every day. So their maturity and temperament has a lot to do with it.
What is that feeling right before the chute opens?
It's almost like a mix of excited and determined. You want to do good and win something, but it's fun also. Some people think the feeling is real nervous but once you've done it enough, you're more focused and you look forward to it. I guess a person does get nervous a little bit; if you don't get nervous you shouldn't be doing it. It's always exciting.

What is your favorite part about being a rodeo cowboy?
You get to go everywhere, to see everything, to travel to different places. In the summer, we're mainly in Colorado and Wyoming but we'll also go to Utah, Arizona, Texas, Oklahoma, Kansas, Nebraska, Idaho. Two years ago, I qualified for semi-Finals in Florida. I drove down there and stayed down there for a week. Not a lot of people get to go down there.
Is rodeo a family tradition?
My Dad used to compete and his family are very involved with rodeo. There're Dorenkamps all over the place, from contestants to producers to just kind of everything.
Why did you choose team roping and steer wrestling vs. any other rodeo event?
I just had more success in those events and felt like if I go on, I can excel in them more than anything else. I am 6'3" – that eliminates any of the rough stock like bull riding; it's not real easy for a tall person.
How do you train/prepare before a rodeo?
It's not much different than anything else. I'm the kind of person who's always ready. We're going to a couple real big rodeos next weekend, so I'm taking my horses to the vet and making sure they're feeling good and ready to go. I also make sure to be prepared mentally. The main preparation is having a good attitude toward it, that you feel like you're ready to compete. A lot of it is mental. If you're telling yourself you're gonna do good, your chances are that you're going to do good. There's a lot more to it than people see.
What are the biggest events you've done, and what are you looking forward to this year?
Last year we won the Greeley Stampede on the Fourth of July. It's a big rodeo and we're back up there this year. I'm really looking forward to going back up there. And of course, I always love coming to Steamboat. They put on a great event with the Steamboat Springs Pro Rodeo Series and it is a friendly, fun town to visit.
For a complete listing of rodeo events and information, go to steamboatprorodeo.com.