Celebrate Fall With The 4th Annual Steamboat OctoberWest
The evenings have been growing noticeably cooler here in Steamboat Springs, Colorado and it seems as though every time I step outside there is more amber, crimson and burnt orange blooming on the surrounding hillsides than the time before.  What does this all mean?  It means that summer is on its way out and autumn is just around the corner here in the Yampa Valley and what better way to celebrate than by attending the 4th Annual Steamboat OctoberWest!
To learn more about the "Steamboat Lifestyle", read my blog Come for Steamboat's Winter, Stay for Summer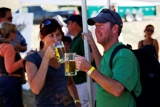 The festival runs the weekend of September 21-23 and includes music, food, beer, games and activities for kids and adults alike.  This is Octoberfest with Steamboat's western flair!
The event starts Friday night with the Pedaling Posse Parade in Steamboat Springs' historic downtown, leading patrons to their favorite restaurants for the Suds & Grub event with beer tastings and food specials.
Saturday will be  packed with events and entertainment for the entire family, including the I Love Beef Cookout and free concerts featuring the Wheeler Brothers and Mile Markers.
Plenty of tasty Colorado beer will be on tap for your enjoyment, so come on out and help us to bring autumn in with a bang!
Regards,
Charlie