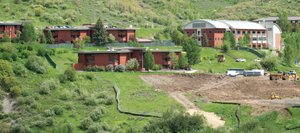 Colorado Mountain College (CMC) gets bigger in Steamboat Springs.
Yes, it's that time of year again – the Steamboat Pilot and Today is overflowing with flyers for pens, notebooks and backpacks, and our local Wal*Mart has those nifty bonus pack Hanes childrens' underwear displays that signal back to school (known as "BTS" in retail lingo) is just around the corner. But the biggest "academic news" in Steamboat Springs, CO is also the biggest real estate development news in town – the $20 million addition to the Colorado Mountain College (CMC) Alpine Campus that also coincides with the school's being accredited by the Higher Learning Commission to offer four-year Bachelor of Arts and Bachelor of Science degrees in sustainability studies and business administration respectively.
Located on prime real estate above Old Town Steamboat Springs on the hillside across from Howelsen Hill, the new 60,000 square foot building will house many amenities open for public use and the community at large. Non-credit continuing education classes have always been popular with Steamboat Springs residents, and the new building will be home to some of the course favorites including yoga and pilates. Community amenities planned for the building include:
• Public meeting rooms and decks
• Café and garden area
• 250 seat auditorium for public and private events
• Spacious weight lifting room open to residents enrolled in classes
CMC's new building is yet another addition to Steamboat Springs' growing downtown infrastructure that offers attractive within-walking-distance amenities for those full and part-time residents looking for alternatives to the traditional ski-in/ski-out allure of ski resort living.
A short walk down the hill from CMC is the new Bud Werner Memorial Library and across the Yampa River is Howelsen Hill, one of the most popular year-round recreation destinations. These downtown amenities nestled among the already popular Old Town restaurants and retail stores afford Steamboat Springs with a unique, authentic community culture. When combined with being a resort town destination for those seeking winter's champagne powder and summer's hiking, biking, festivals and laundry list of outdoor activities, Steamboat Springs, CO has a value proposition that's extremely attractive to those seeking second homes or a lifestyle change conducive to permanent relocation in the Yampa Valley.
Charlie