Entry Level Price Points Dominate Steamboat Springs 2011 Sales
Steamboat Springs saw a 2011 real estate market dominated by sales of homes priced under $200,000. Condominiums made up most of these sales, and now that these bargains are off the Steamboat Springs market, there's not much inventory at the lower price points as compared to last year. Here's a Steamboat Springs real estate snapshot by the numbers:
* Homes priced below $200,000 comprised 36% of 2011 sales
* 26 condos sold in 2011 for less than $100,000 (of these, 16 were bank owned)
* 45 condos sold for prices between $100,000 and $200,000 in 2011
*52% of 2011 Steamboat Springs' sales transactions were for less than $300K
* Currently only 9 condos are listed on the market priced less than $100K and only 39 condos on the market reside in the $100K-$200K price range
Steamboat Springs' low end supply has dwindled – but it remains uncertain as to whether that will equate to an increase in the lower end price base. Privately owned homes had to compete with a good percentage of bank owned sales last year and that drove prices down. Steamboat Springs' shadow inventory, homes that are still in the bank-owned system that haven't hit the market yet, is an overhanging question mark. If there is significant shadow inventory still remaining, it could keep Steamboat's prices low as those homes cycle through the banking system and hit the market throughout 2012. Conversely, if the banks have run through their low end inventory and demand starts outpacing the supply of privately owned homes, then Steamboat Springs' home owners will have more confidence as well as the leverage to ask for (and get) higher prices.
One final note about the entire piece of the Steamboat Springs' 2011 real estate sales pie, with 52% of 2011 sales being homes less than $300K, the share of sales was taken from the middle range price points, those priced from $300K to $800K. Homes priced from $800K to $3M+ have seen very little change as a percentage of transactions from 2007 to 2011.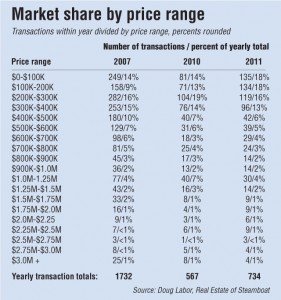 Steamboat Springs real estate has always been and will continue to be a great value buy. Whether buyers will continue to have ample options to purchase Steamboat Springs real estate for under $200K remains to be seen. The economic laws of supply and demand would indicate that perhaps the Steamboat Springs real estate market is about to see a lower end price adjustment to where private home owners won't have their home prices held hostage to bank owned home prices.
—For more information on buying real estate or questions regarding Steamboat Springs real estate  in Steamboat Springs, Colorado, feel free to call Charlie at 970-846-6435 or write me an email at: charlie@steamboatsmyhome.com
Thanks,
Charlie