For Sale:  ½ acre waterfront lot on the trout laden Yampa river in heart of Steamboat Springs, Colorado. Sounds great right?  Soothing sounds of the river and trout fishing right in your back yard. One of the last remaining riverfront lots within the city limits of Steamboat Springs. Supply and demand might place the value of this lot to over half a million dollars. But given a fairly recent change in national building codes, this riverfront lot value is cut in half.  That's right, $275,000 for riverfront property.   But thanks to some brainstorming of local Realtor Charlie Dresen and local architect and builder, Jeff Gerber and Hans Berend of Gerber / Berend Design Build, this riverfront lot could be the buy of the year.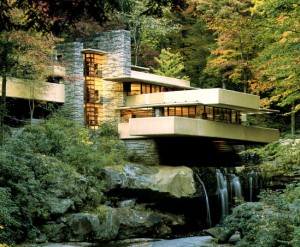 Fallingwater comes to mind when I think of this lot. This Frank Lloyd Wright single family home has been an inspiration for decades and this inspiration can translate into the Steamboat lot.   The restrictions that limit the building according to Steamboats and Routt county building department, also allow for cantilever construction. And Fallingwater, a Frank Lloyd Wright masterpiece has some cantilever construction and running water.  I'm not saying you can build a home over the Yampa river or cast to rising trout off your back deck, but you can extend closer to the river than what the FEMA Floodway restricts.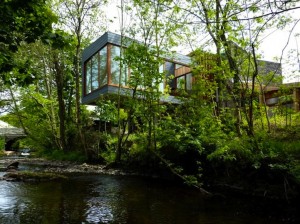 Back in 2005, after Hurricane Katrina, FEMA made an assessment that they need to impose building restrictions on all water ways in the United States. So even though FEMA has never set foot on this waterfront lot in Steamboat, Colorado, they designate where one can and cannot build. Hence, one is restricted from building a home too close to the river.  Many who have looked at the lot do not like these restrictions and see this as a problem. And I don't blame them. But as a realtor in Steamboat Springs, I come up with solutions. Thus, utilizing a cantilever building technique that at the right elevation, can extend over the FEMA floodway, you will have river views, river sounds, and a really cool home in Steamboat Springs, Colorado and some of the best trout fishing in Colorado.
Here's some idea of a great home.