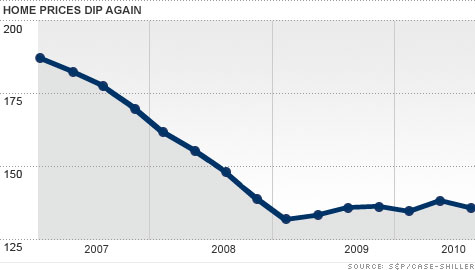 According to CNN money report, U.S. home prices fell 2% in the third quarter after having gained steadily since early 2009. The Case-Shiller Home Price index, the barometer for U.S. home prices, has seen a steady, albeit slow increase in real estate prices over the last few month. But that changed as of late.
"The S&P Case-Shiller Home Price Index has recorded gains in four of the previous five quarters, including a 4.7% jump between April and June 2010. That leaves national home prices down 1.5% year over year and off 2% compared to the second quarter, according to the Index, which was released Tuesday.
David Blitzer, chairman of the Index Committee at Standard & Poor's, attributed some of the decline to the end of the government program that paid tax incentives to homebuyers but he pointed to other problems weighing on the housing market.
"The national economy is certainly the number one issue for housing," he said. "Additionally, there is a large supply of houses on the market and further, hidden, supply due to delinquent mortgages, pending foreclosures or vacant homes."
The S&P/Case-Shiller 20-city index, which is calculated monthly and looks just at major metro areas, also recorded a substantial decline. In September, the index fell 0.7% compared with August. The 20-city index is down 28.6% from its July 2006 peak.
Just two of the 20 individual markets the index tracks recorded gains for the month: Washington, D.C., home prices rose 0.3%; and Las Vegas was up 0.1%."
Steamboat Springs real estate values have leveled off somewhat. We did not mirror many cities that saw real estate values increase. Because we are a resort community, there was a latency regarding distressed properties. Where many cities have flushed many foreclosed homes through the system, the Steamboat market is still mired in distressed sales.
As of late, there have been several homes in the Fish Creek area of Steamboat to see foreclosures. And these home have been selling at a pretty large discount which effect the remaining inventory.
—For more on this topic or questions regarding real estate in Steamboat Springs, feel free to call Charlie at 970-846-6435 or write me an email at: charlie@steamboatsmyhome.com. I will answer your post or email promptly with candid and informed answers. Click here to view all properties in Steamboat Springs in "real time" — This is one of the few real estate sites showing all foreclosed and all short sale listings in real time and updated every few minutes.