Homeowner Consequences Foreclosure vs. Short Sale
Heritage Title Company, one of Steamboat Springs' CO local title companies, presented a hand-out at our MLS meeting yesterday that provides valuable information for clients facing a distressed home sale.
Top-line answers for clients are as follows:
Credit Score
* In Foreclosure the credit score may be lowered anywhere from 250 to more than 300 points and typically will affect a credit score for over 3 years.
* In a Short Sale only late payments on mortgage will show and after the sale, mortgage is normally reported as paid as agreed, paid as negotiated or settled. This can lower the score as little as 50 points if all other payments are being made. A short sale's effect can be as brief as 12 -18 months.
Credit History
* Foreclosure will remain as a public record permanently, and on a person's credit history for 10 years or more.
* A Short Sale is not reported on credit history. There is no specific reporting item for short sale, and the loan is typically reported as paid in full or settled.
Current Employment
* In Foreclosure employers have the right and are effectively checking on the credit of all employees in sensitive positions. In many cases, a foreclosure is reason for immediate reassignment or termination.
* A Short Sale is not reported on a credit report and is therefore not a challenge to employment.
Future Employment
* A Foreclosure is one of the most detrimental credit items an applicant can have and in most cases will challenge employment. Many employers are requiring credit checks on all job applicants.
* A Short Sale is not reported on a credit report and is therefore not a challenge to employment.
Additional information is available from informed real estate agents as well as mortgage lenders and title companies such as Heritage Title Company in Steamboat Springs, CO who provided this very helpful information grid.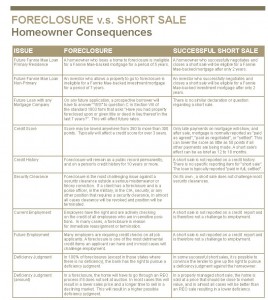 August year-to-date in Steamboat Springs, CO there have been 109 bank closings totaling just over $29.0 million dollars with an average price of $266,547 per unit.
—For more information on buying real estate or questions regarding Steamboat Springs real estate or renting a home in Steamboat Springs, Colorado, feel free to call Charlie at 970-846-6435 or write me an email at: charlie@steamboatsmyhome.com.
Thanks,
Charlie