Steamboat Springs, CO Real Estate Report
Before we dive in I'd like to share with you the successes of Sotheby's International Realty. 2016 was an incredible year for the brand and it is exciting to be a part of it all. And most importantly, thank YOU for being part of my own personal success as well as that of Sotheby's!
Routt County Real Estate Market 
We jumped right into 2017 with a strong start to the year.  Gross volume was $45.9M, up 23.45% compared to last January, and there were 78 transactions, up by 1.3% from the same period last year. Overall January volume was given a boost with the sale of a $9.79M ranch just outside of the Steamboat city limits.
*Figures compliments of Land Title Guarantee Company
There is still plenty of demand and limited inventory for properties in the Routt County Market. Currently 147 pending sales are recorded and there were 126 new listings that came to the market in the past 30 days. 

Residential Transaction Price Point Analysis January 2017

Price Point

# of transactions

% of transactions

Previous month % of transactions

% of gross volume

Previous month % of gross volume    

Under $500K

30

66%

57%

37%

23%

$500,001 – $1M

10

21%

29%

29%

30%

$1M – $3M

6

13%

12%

34%

33%

Over $3M

0

0%

2%

0%

14%
This chart notes single family and multi family residential sales, 46 total transactions for the month of January. Not shown here are the 7 timeshare transactions, 12 land, 10 commercial and 3 miscellaneous transactions for a total of 78 transactions. There were no bank sales in January 2017.
There are many parallels between the stock market and real estate, particularly for upper end buyers. The steady rise of the stock market following last years uncertainties will no doubt have a flow on effect in our local real estate market. As reported by The Denver Post last week, other resort communities within Colorado are already showing signs of this rebound in their luxury markets.
View full January 2017 Routt County market statistics here
Steamboat Sotheby's International Realty has also recently released a comprehensive Market Report for 2016. This is a great read for those of you who are interested!
National Real Estate Market
Home prices have hit a 2.5 year high! The latest S&P CoreLogic Case-Shiller U.S. National Home Price Index reported a 5.8% annual gain in December, up from 5.6% the previous month. David M. Blitzer, Managing Director and Chairman of the Index Committee at S&P Dow Jones Indices says "With all 20 cities seeing prices rise over the last year, questions about whether this is a normal housing market or if prices could be heading for a fall are natural." Blitzer also notes that when adjusted for inflation "the annual increase in home prices is currently 3.8%. Since 1975, the average pace is 1.3%; about two-thirds of the time, the rate is between -4% and +7%. Home prices are rising, but the speed is not alarming."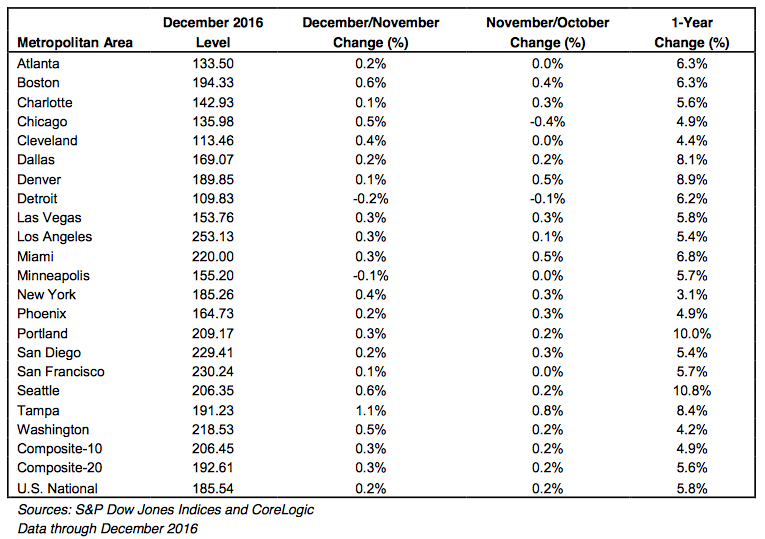 Seattle, Portland and Denver continue to have the highest increases in price however a number of previous cool markets are beginning to show signs of price acceleration. Of the 20 cities included in the census, twelve cities reported greater price increases in the year ending December 2016 versus the year ending November 2016. This is up from 8 cities reporting prices increase in the last reported period. Tampa, FL and Dallas, TX are markets to watch with recent price gains at 8.4% and 8.1% respectively.
Charlie
Want to learn more about me?
Charlie Dresen
Real Estate Associate Broker |Sotheby's
Change Your Experience
970-846-6435 | SteamboatsMyHome.com
Charlie@SteamboatsMyHome.com