Steamboat Springs, Colorado Condo Investment: How to Buy Smart.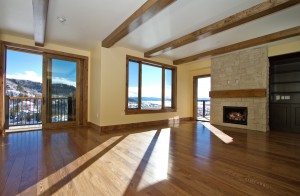 Before you buy that awesome condo as a second home/ski vacation get-away that you're banking on to pay for itself via rental income, think beyond what you like and make sure it'll be attractive to your future renters as well. The thought process should go something like this:
What I Might Want in a Second Home/Condo
Good location – easy access to town and ski mountain
Size – Ample bedrooms and bathrooms
Overall floor plan that's comfortable
Amenities: hot tub, pool, fitness room, shuttle service, indoor parking, owner's storage space, wireless Internet service, washer/dryer in unit
Condition
Low HOA fees, but an HOA that covers the normal HOA expenses
Healthy Capital Reserve Fund (no sense having low HOA fees if your HOA Capital Reserves are so low that you're getting assessed an extra fee every quarter too)
Great value
Rental income history/potential that pays for the condo (don't forget the property management fee and what it does and does not include)
Sales history in the building – not always a perfect indicator, but an indicator of investment liquidity none-the-less
What Renters Look For in their Vacation Condo
Ski mountain location and the closer the better
Ample sleeping accommodations
Amenities: hot tub, pool, fitness room, shuttle service, wireless Internet service, concierge
Price and/or vacation packages
How does it look overall on the Internet – that's all they're going to see when searching options, so whoever is your property manager better be a good property marketer tool.
If you want to invest in a Steamboat Springs condo or townhome, you have to decide what's important to you. Prioritize things like:
Your comforts and accommodation while you stay in your residence
Actual income you can gain from renting the unit
Cost of ownership: (mortgage, taxes, Home owner dues, property management
Make sure the numbers add up and if it's rental "income" you want know as much as you can about the fixed and variable costs involved as well as the revenue variables you might encounter. A good real estate agent will guide you through the questions to consider, so you'll have all the possible advantages to being a profitable second home owner.
If you would like assistance in investing in Steamboat Springs real estate, return on investment is my game. Give me a call.
Regards,
Charlie