Steamboat Springs' Winter Carnival – Traditional, Fun & Unique
Steamboat Springs' 99th annual Winter Carnival will be held February 8th – 12th in Steamboat Springs, CO.  The 5-day schedule includes a variety of alpine, Nordic, freestyle and snow boarding events as well as downtown Steamboat street events and activities.  Two unique attractions set Steamboat Springs' Winter Carnival apart: the High School Marching Band on Skis and The Lighted Man skiing down Howelsen Hill.

The Steamboat Springs Marching Band will be marching down Lincoln Avenue on skis during the Winter Carnival Parade like they have for the past 77 years. The Steamboat Springs High School Band was the first band to ever march on skis and they've been upholding their Winter Carnival tradition since 1935.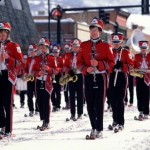 The Lighted Man made his first appearance in 1939 in an outfit weighing more than 100 pounds. The Lighted Man in this year's Howelsen Hill Saturday Night Extravaganza will wear a costume weighing about 70 pounds which includes 32 Roman candles and 12 sky rockets. It'll take 5-6 people to get the outfit on the lighted man who will then ski down Howelsen Hill to the delight of the crowd that gathers below.
In case you're wondering, the snow that covers Lincoln Avenue for the street events and parade come from the coordination of the Steamboat Springs Public Works Department who see to it that 400 plus tons of snow are in place by 6:00a.m. each day of the downtown events. With minimal snowfall this year, those 400 plus tons of snow will probably take a little longer to gather and get here!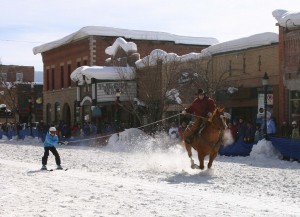 The Steamboat Springs Winter Carnival is sponsored by the Steamboat Springs Winter Sports Club and produced by numerous volunteers. It is always held the second week in February. Visitors plan their vacations around it and locals look forward to this fun annual event. It's another example of the Steamboat Springs' community coming together to continue a tradition and to celebrate the season Ski Town U.S.A. thrives in.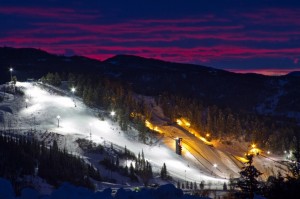 —For more information on buying real estate or questions regarding Steamboat Springs real estate  in Steamboat Springs, Colorado, feel free to call Charlie at 970-846-6435 or write me an email at: charlie@steamboatsmyhome.com
Thanks,
Charlie