Steamboat's Best Prices on Gear – SSWSC Ski Swap
Gearing up for this year's ski and snowboard season? If you find yourself needing equipment, clothing and outdoor gear, don't miss the Steamboat Springs Winter Sports Clubs' annual Ski & Sport Swap. Here, local and regional vendors selling new gear and thousands of locals consigning their gently used goods come together to sell all sorts of outdoor equipment in this benefit for our local Winter Sports Club. I will warn you though, it gets crazy but it can be worth it.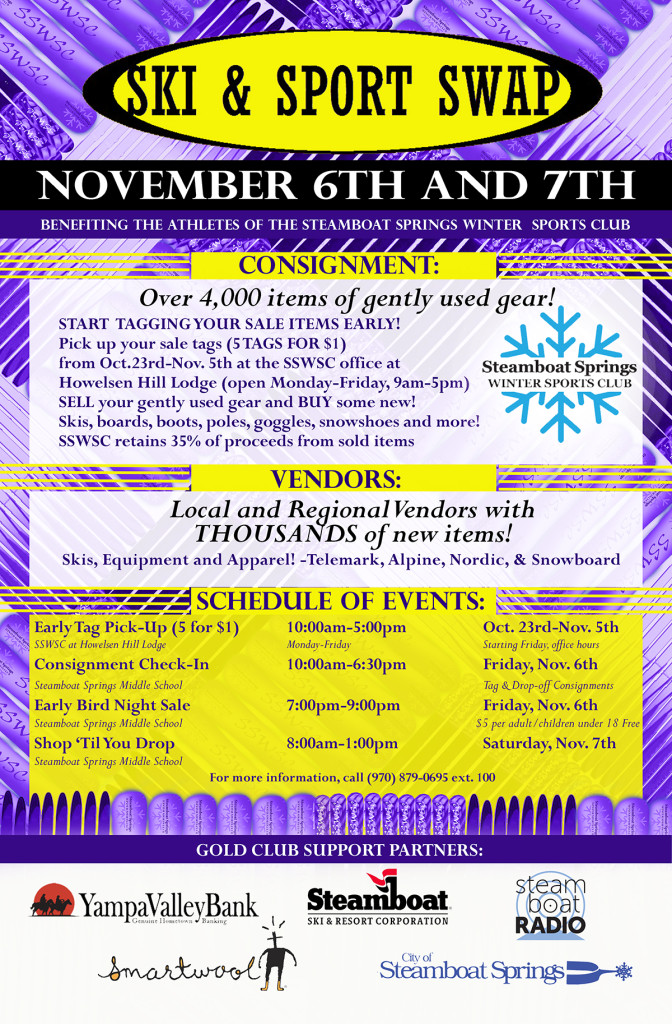 A few things to note:
Go with a list. It's easy to get overwhelmed by all the people, items for sale and deals. Have a list to keep yourself on track.
Get there early. For $5 you can be among the first to pursue and purchase tonight, Friday, November 6, from 7:00 – 9:00pm. Depending on what you are looking for, it may be worth it.
Be patient. There will be lines. Be patient. There are many, many great deals to be had so just be patient and you will get yours.
After you get all geared up, join me and many others, as we celebrate opening day at the Steamboat Ski Resort on Thanksgiving Day, November 26. Each year on opening day, the Steamboat Ski Resort donates ALL lift ticket proceeds to the Steamboat Springs Winter Sports Club, called "Scholarship Day". Last year over $900,000 was raised for SSWSC athletes. Generous, right? We think so, plus it is a fun way to kick off the season. Please note: season passes are NOT accepted on this day. Lift tickets are usually offered at a discounted rate with proceeds going to the Winter Sports Club.
Real Estate Associate Broker | Sotheby's
610 Market Place Plaza, Steamboat Springs, CO 80487