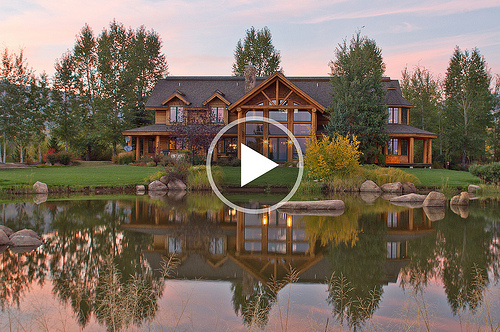 Strawberry Park Horse Lover's Dream For Sale in Steamboat Springs, Colorado
Located in the heart of Strawberry Park in Steamboat Springs, Colorado, this spacious 5 bedroom, 5.5 bath home is truly a site to behold.  This home combines the convenience of being just minutes from downtown Steamboat Springs, Colorado while still remaining tucked away in its own blissfully content little pocket of privacy, peace and tranquility.  This home is also just around the corner from Steamboat Springs Middle School, part of the Steamboat Springs RE-2 School District, which recently received the highest level of accreditation from the state.  You can read more about that here.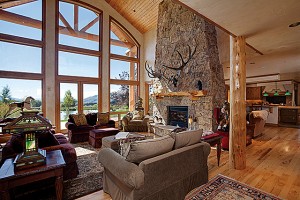 This beautiful home is nestled amongst nearly 11 acres of attractive hay meadows and provides breathtaking views of Mt. Werner, Emerald Mountain and the surrounding valleys.  Beautifully landscaped, the property also contains a pond which could be stocked for fishing during the summer months.   With senior water rights from Soda Creek, the property has been well-prepared for irrigation, providing both the breath of life and soul-soothing sounds that only water can bring.  And speaking of water, the fishing is outstanding here in our little corner of Northwest Colorado.  Read Fly Fishing in Steamboat Springs and Northwest Colorado to learn more about it.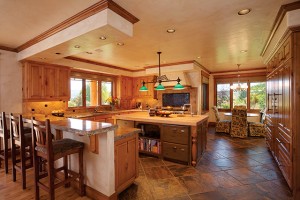 Soaring ceilings, a stone fireplace and a wall of windows in the main living area provide an inspirational space to sit down, relax and take it all in.  There are also several additional fireplaces located throughout the home.  A gourmet kitchen boasts state of the art appliances, granite counter tops and custom cabinets, as well as a breakfast nook that's just perfect for casual family meals.  The home also has a formal dining area which is great for entertaining.
With five bedrooms, this home is perfect for a well-established family and has more than enough room for everyone.  An exquisitely decorated master suite is located upstairs for exceptional privacy. Additionally, one of the downstairs bedrooms could be converted to a master bedroom for added convenience.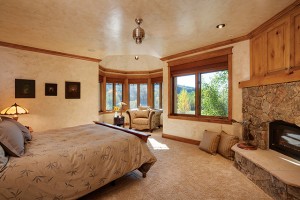 Just outside, an attached 3 car garage provides more than adequate space for all of the family vehicles. An additional 9 car detached garage comes complete with more than ample work space for all your projects and tools. A professional quality car lift makes this space the stuff of any car lover's dreams.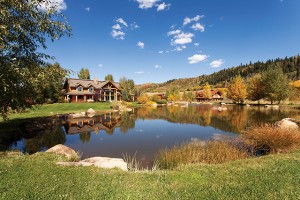 With 2 remarkable hand-crafted heated barns, 3 over-sized stalls, 2 tack rooms, a hayloft, turnouts, and equipment sheds, this property is perfect for a horse lover.  With its awe-inspiring location, seemingly limitless special features and bountiful amenities, you can be sure that something this special comes along only once or twice in a lifetime.  Now is your chance to be a part of it.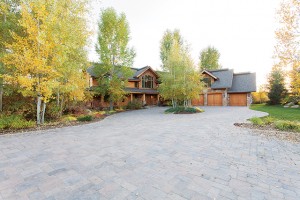 Regards,
Charlie