Summer Reservations Heating Up in Steamboat Springs
Word must be getting around that the Steamboat Springs ski mountain base area will soon be unveiling the new pedestrian promenade with Burgess Creek flowing through it. As reported in the Steamboat Today newspaper, Sheraton's Director of Sales & Marketing is projecting the number of room nights driven by destination weddings will be up 22% this summer. In addition, revenues from convention groups are anticipated to increase around 18% as the nature of group bookings shifts from recreation oriented groups to corporations and professional associations holding multi-day meetings, trainings and conventions here.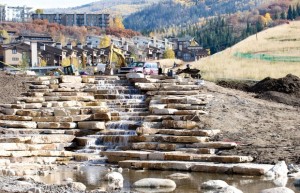 Another potential positive is the news from Chris Diamond, Steamboat Ski Corp. President and COO, that his team is contemplating adding Thursday evenings for gondola operations to the current Friday and Saturday nights. This will mean more opportunities for dinners and special events on the mountain, and a chance for more people to enjoy sunsets and views of the Yampa Valley 2,000 feet below.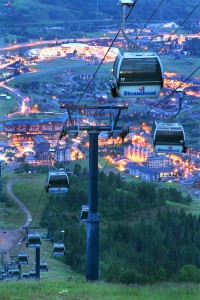 With summer not far off and more daytime activities a good possibility on Steamboat's Ski Mountain, thanks to a new law allowing expanded activities to take place on USDA Forest Service land, now it's looking good for more nightlife as well…whether it's a stroll along the lighted promenade to one of the many restaurants located slope-side, or a ride up the gondola to Hazie's available three nights a week. Steamboat's ski mountain is poised to become a summer destination as well as the winter paradise we're already proud of being known for.
For the first time in almost 50 years Burgess Creek will flow above ground as a result of a 5 year almost $10 million urban renewal project that included the even larger project of creating a heated pedestrian path that winds through Steamboat's ski mountain base. Come and enjoy all Steamboat Springs has to offer – winter, summer and even the mud seasons in between.
—For more information on buying real estate or questions regarding
Steamboat Springs real estate
 in Steamboat Springs, Colorado, feel free to call Charlie at 970-846-6435 or write me an email at: charlie@steamboatsmyhome.com