TAKING "FARM TO TABLE" BEHIND THE BAR
Bolstered by the farm-to-table movement, craft cocktails give mixed drinks a major upgrade.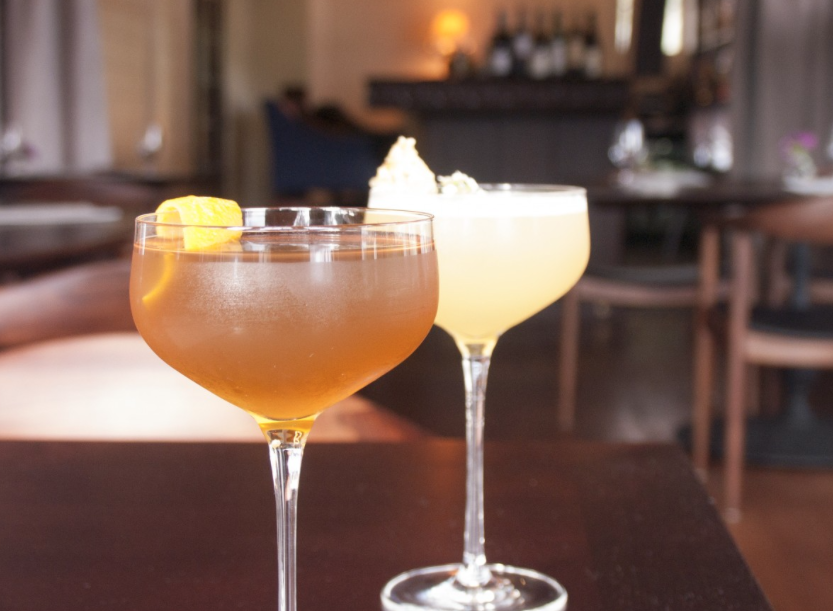 Bourbon and duck fat? Egg whites and edible flowers?
Believe it or not, these are the ingredients featured in some of Steamboat's finest craft cocktails, as bar menus around town are seeing the same farm-to-table concept that has been influencing chef's menus, only applied behind the bar.
"It's almost like you're a chef, but for drinks,' says Rena Day, Cocktail Curator at Low Country Kitchen in downtown Steamboat. "Each drink should hit on bitter, sweet, salty, and sour, just like a well-balanced dish."
Today, bartenders (also known as "mixologists") have elevated the art of creating new cocktails from tossing a couple olives into a basic martini into a culinary art form that puts a flavor profile into a glass, like an amuse bouche in every sip. And while most of these drinks are at least a nod to a classic cocktail, the goal is to use the freshest and best quality ingredients available as inspiration, the same as a local chef would do in the kitchen. "I've worked at places where they put all these exotic ingredients in their drinks but no one knows what they are or what they taste like," says Day. "I like to make our drinks approachable, so they might be exotic but at least the guest knows what all the ingredients are."
For Patrick Ayres, owner of the recently-opened Cloverdale Restaurant, craft cocktails are a natural extension for what he's doing at his farm-to-table restaurant. "In the kitchen we're using all these ingredients from our local Cloverdale Farm, so it's the same concept with what we're doing behind the bar," says Ayres. "The whole purpose is to have the freshest ingredients possible because that's what speaks to the quality." The bar menu is created with the same principle and approach as the restaurant menu. "We take the seasonal products that we grow and combine them with the best products available from around the world. It's very seasonal and changes every two weeks."
Want to take a sip? Here are a few examples of the "craft":
The "Bees Knees" at Cloverdale Restaurant
At Cloverdale Restaurant, The Bees Knees is their most popular drink but it's also the manifestation of the restaurant's fresh-and-local philosophy. "At our farm we raise bees, so the honey comes directly from our them. Our honey has a very distinct flavor you're not going to find anywhere else," Ayres says. The drink is made from Mahon Gin, and then shaken with lemon and honey so there's a fine froth on top.
"The Hudson" at Cloverdale Restaurant
For the more adventurous, The Hudson features duck fat washed with bourbon. "We soak the bourbon with duck fat and it sits for three days," Ayres says. "Then we freeze it and strain off the bourbon. Finally, it's combined with Maraschino liquor, which is a classic cherry liquor, dry vermouth and a bitter orange liquor called Amerpicon that comes from a boutique distillery in Golden, CO called Golden Moon. They don't even have distribution so we have to drive down there and pick up the bottles ourselves." Ayres says. The finished product "does have duck flavor which is strange, but cool, and a little thickness that gives it more of a mouth feel."
The "Devil Went Down to Georgia" at Low Country Kitchen
Low Country Kitchen is so passionate about their cocktail program that they produce a weekly 2-minute video segment for their Facebook page called "Mastering the Classics." Day has a passion for resurrecting classic cocktails, which often serves as inspiration for some of her more creative concoctions.  One of the most popular is The Devil Went Down to Georgia, which is, as Day describes, "basically a margarita, but with red bell pepper juice and pineapple instead of citrus." Bell pepper juice? Yup. "I had a dream about it one night, so the very next day I tried to make it," Day recalls. There's also a little jalapeno and it is served with smoked pepper salt around the rim. Day is also proud of The Southern Belle. "It's a really light, fluffy, egg white strawberry lime cranberry cocktail made with gin, strawberry, orange flower water, cranberry, egg white and lime. It is floral and sweet, and the gin brings in a nice piney flavor," says Day. "Topped with orange flower water spray and an edible flower, she literally has a flower in her hair."
The "Southern Belle" at Low Country Kitchen
Written by Steamboatsir.com