The Evolution of Smart Home Technology, taking the term "remote control" to a new level.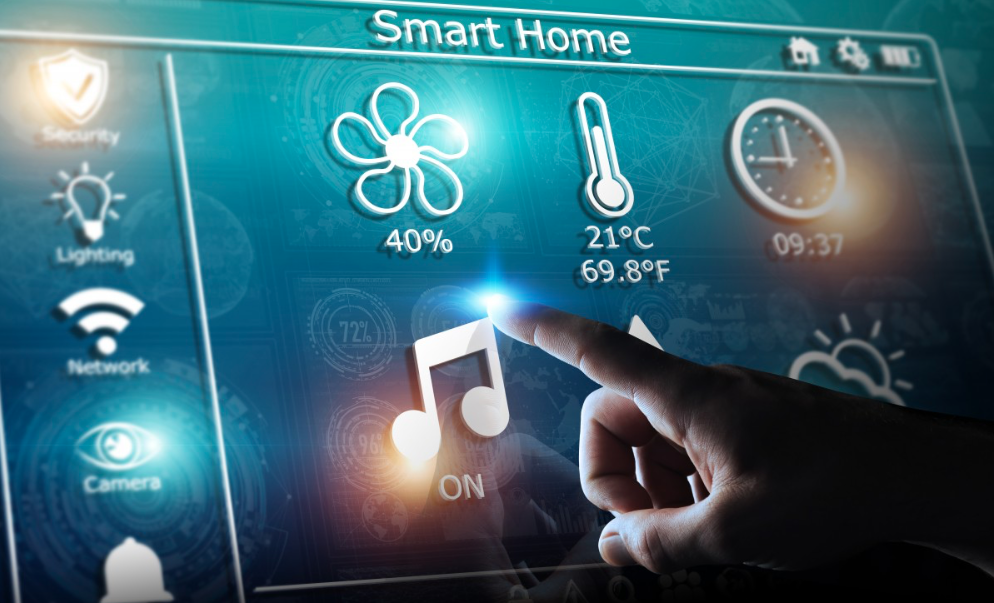 It wasn't that long ago that home entertainment systems required loading DVDs or VCR's into huge drives, storing 2-foot-deep televisions into large entertainment media consoles, managing a stock pile of remote controls, and mounting speakers to walls.
Well, those days are over. Smart home technology has evolved to allow homeowners to control everything from thermostats, lighting, and door locks, to monitoring media and security remotely. Even the term "touch of a button" is obsolete when homes are being controlled with customized apps that are loaded onto smart phones and tablets—so it's really the "touch of a touch screen."
According to Thomas McKenzie, owner of Steamboat-based Cloud 9 Integrated Systems, a smart home is, "a way to use technology to enhance your living experience." Primarily, that means being able to create a home environment you enjoy and to control a home remotely, which is a huge benefit to anyone, especially a second home owner.
"We put systems together to give someone the ability to control their home via mobile devices. Where that really comes into play is in the resort market. We've got clients who live in Texas and they want to be able to let someone into their house in Steamboat. They can do that through their app while in Texas."
McKenzie says the goal is to simplify technology for the end user. The question is really: 'How do we make everyone's life easier?'"
These systems are anything but simple inside the walls, however. With most of today's technology relying on internet connectivity, adequate technological infrastructure is required to run and integrate all of these systems in one house. The only way to do that, McKenzie says, is by building a local area network (LAN) that has the bandwidth to support multiple platforms simultaneously. "Say you have a 7,000 square-foot house and you have 15 guests at Christmas and they're all hammering on their personal devices, streaming video and using wi-fi. At the same time, you're running a sound system and a television with a 4,000-pixel resolution. The technology behind that is immense. We have to create a pro-grade data network able to handle all of that."
The technical side is what the professionals worry about. It's what smart homes can do that's the fun part for the homeowner.
One of the most exciting functions of smart homes are the sophisticated home entertainment systems that allow users to control audio, video and media streaming services throughout the house remotely. "You can listen to your favorite music in any room you want, whenever you want through your phone." McKenzie says. "We are also doing a lot of landscape lighting and landscape audio systems, including subterranean speakers that are below ground where you can't see them. These are basically scaled down stadium systems for private homes."
For as much as it costs to install these systems, smart homes can save homeowners money in the long run, by making it easier to control heating and other utilities more efficiently. Automated shades can also save on heating and cooling costs. "With one button on your mobile device, you can set the temperature control in every room in a 7,000-square foot house to a precise point so you're not wasting energy," McKenzie says. "Or, you can push one button to turn the heat up for your arrival so you don't have to run around the house setting every individual thermostat. It's all preprogrammed into personalized zones and to an individual homeowner's desired settings."
Increased security is another benefit to installing smart home technology because things like locks and lights can be controlled remotely. "We can program lights with timers to make it look like someone is home. We can also put checks in place to alert you if someone is turning the heat up too high, for example."
There's no doubt smart home technology not only adds value to real estate, but is fast becoming a standard for the luxury home buyer. "The cost for these systems is minimal relative to the cost of a luxury home in Steamboat. And most second home buyers want the ability to control their living space remotely," McKenzie says.
Still, even the smartest home will likely need an upgrade sooner than later. "The technology changes very quickly," McKenzie says. "It really about building something that can be updated without starting from scratch again."