This is not uncommon to see a home being torn down for a new home. After all, location is still the driving force in real estate. Whether it's a ski-in / ski-out Steamboat Springs, 5 bedroom ski condo, or a North Palm Beach 12,000 square foot masterpiece, locations like these just can't be replicated.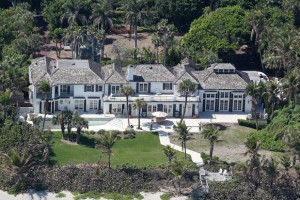 Elin Nordegren, Tiger's ex bought the home for 12.3 not too long ago. Her plan was to remodel the water front home with an indoor pool and elevator. But after more thought, Elin felt a new home was just a better idea. So last week, down it went. Seems a shame to tear down that 1932 gem, but then again, she's helping the local economy.
Read a little more about this here.