Today's New Housing Market, Part 3 of 3: Owners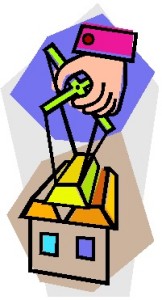 CNN Money did a 3 part series on "smart strategies for buyers, sellers and owners" in today's new market. 6 years after the housing collapse, they have some suggestions on how to adapt to this new housing market. Part 1 was on Selling, Part 2 was on Buying, and now we'll talk about owners who are not buying or selling.
CNN Money recommends:
-"Seize the opportunity to refinance." Take advantage of your increased home value and refinance. Mortgage rates are still phenomenal so shop around because there are a variety of choices out there.
-It is easier now to get home equity loans and lines of credit. Well, not easier, you have to fill out a ton of paperwork but the lenders are lending again. Maybe now is the time to purchase something or take a trip.
-Upgrade your home. According to the National Association of Home Builders, bathrooms seem to be the top renovation. Outdoor living area are great options too. Or a new kitchen might be nice.  Maybe now is the time to make your home more livable?
-Take advantage of the energy-efficiency tax credits. Upgrade your hot-water heater, windows, weather stripping, toilets, furnace, or a host of other things.
In case you don't feel like going and reading the other 2 parts, let me recap for you:
The age old advice for buying and selling is coming back into play. Be educated, be fast, be smart. Make your place shine if you're selling, make your best offer if you're buying. Things are starting to get back to to a normal, appreciating real estate market.
There are still no crystal balls but staying informed about the market trends will help you.
Charlie
Real Estate Associate Broker |

Prudential
610 Market Place Plaza, Steamboat Springs, CO 80487