Top 20 Real Estate Videos for 2012
WellcomeMat.com recently highlighted the Top 20 Real Estate Videos for 2012.   WellcomeMat.com  is one of the leading websites for publishing real estate videos.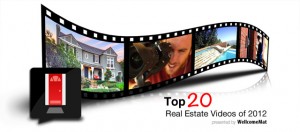 As many of you know, I've been using video to help sell real estate in Steamboat Springs for 7 years now. So it's not a surprise to me that the using video in real estate today is almost expected.
What might surprise you is that this selection of videos are not just videos of houses. The use of video in real estate has evolved into so much more.
Many of these videos are "lifestyle" videos where they portray what it's like to live in a specific community. The 1st place video is on what it means to be in a community.
What these top 20 real estate videos all have in common are they tell a story. Real estate is so much more than a house. It's about the neighborhoods, it's about the local communities, and amenities and what the area offers. How about a great community pool party in Austin or an awesome swap meet in Maricopa, Arizona.  One of my favorite videos that I made, which was awarded 5th in WellcomeMat's Top 20 Real Estate Video's, is about buying real estate in Steamboat Springs, Colorado. But this video is really a great message for any buyer of real estate in a small community.
Again, real estate videos are not just about selling a house. It's about telling a story about a home, a community and an area. What's so great about video is that it's real. No other medium allows you to get so close the being there. Using video in real estate is one of the most important tools a Realtor can use today.
Regards,
Charlie