How to make the most of your home décor over the holiday season.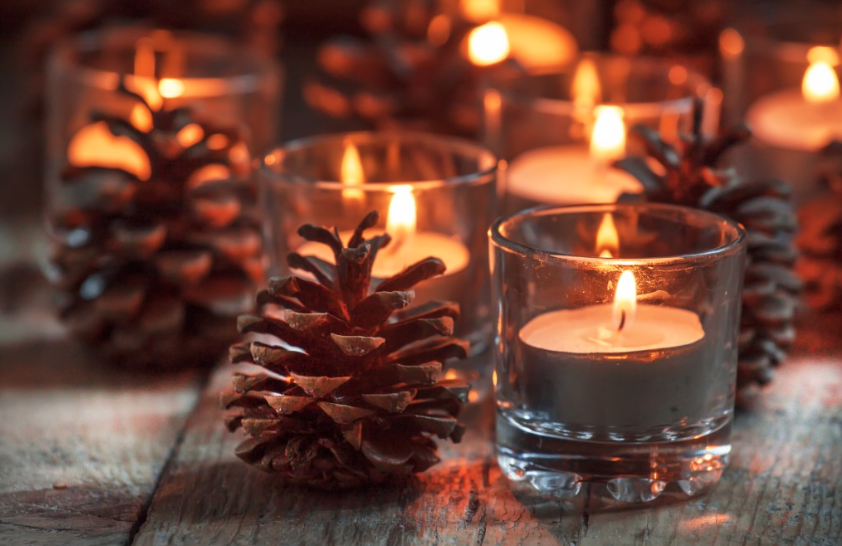 Decorating for the holidays doesn't have to blow a fuse or require enough Christmas lights to see your house from space. It doesn't even mean having to stick to red and green. We caught up with Rumor Designs partner and interior designer Valerie Stafford to talk about ways to avoid the Christmas kitsch but still make your home warm and inviting for guests and family during the holidays.
Common Scents
Most people are so overwhelmed by Christmas decorations, they don't even think about scent. "Smells are a great way to introduce that holiday feel," Stafford says. "Candles and guest soaps can bring in a warm, inviting atmosphere to your home without being too overwhelming." Stafford recommends stocking guest rooms and bathrooms with wintery scents like pine, cinnamon, thyme and rosemary to set the holiday mood.
First Impressions
"Your door is the first thing people see and it really sets the tone," Stafford says. "A simple wreath with earthy herbs and simple greenery can be the perfect touch without being too over the top." An unexpected wreath is also fun. Try using citrus fruits for a splash of color, spray painting your wreath white for a wintery feel, or even set out a red marker and little notecards for people to write holiday messages and then stick the notecards in the wreath for a more sentimental tone.
Flower Power
"I'm a huge fan of florals in home décor. It's a great thing to bring into the home for a little holiday spirit that's more elegant and understated than some of the flashier Christmas decorations," Stafford says. She recommends simple white lilies (be sure to select a less fragrant variety), white roses, tulips, or even carnations if you're on a budget. "It's nice to combine your flowers with evergreens like juniper and branches for a piney smell that isn't overpowering. Red berries and sticks are also a nice accent." Stafford suggests using several smaller, lower vases and spreading them out so they're not too invasive on the table. "Spread them out throughout the house, especially in guest bathrooms. Fresh flowers are a really nice, classy touch."
Get Personal
"The more personal you make your décor, the more special it will make your guests feel," Stafford says. Making little gifts people can bring home that double as a place setting might be a little more labor intensive, but will make a lasting impression. "You can paint mason jars or the lids with chalkboard paint and then write the guest's name with chalk," Stafford says, noting that this is a trick borrowed from the wedding industry. Try filling the jars with homemade hot chocolate mix, candied nuts, peppermint candies, chocolate bark, homemade granola or any other treat that looks nice and can be saved for later—the gift that keeps on giving.
Reproduced with permission from SteamboatSIR.com