Wow…Two Hometown Icons Face Big Changes
When you live in a town of less than 10,000 permanent residents you definitely have a couple of stores and restaurants that are your "go-to" places…you know those places that you can always count on for the perfect stocking stuffer or the grilled vegetable salad when you're trying to be somewhat healthy.
Two of those local Steamboat Springs, Colorado hangouts are about to undergo big changes – downtown Lincoln Avenue staple All That Jazz is up for sale and Tugboat Grill & Pub up near the ski mountain base has been sold to a new owner. All That Jazz, an iconic music store that sells much more than music has been in business since original and current owner, Joe Kboudi, opened its doors in 1977. Now in his late 60's, Joe is ready to move on and have more time for other hobbies…not that he won't entertain an offer to manage the store if a new owner needs help.

From the onset, All That Jazz sold vinyl records, cassette tapes, greeting cards and gifts…all of which he currently sells even if the cassette tapes have morphed into CD's. We can only hope that someone sees the value in buying the iconic store and keeping the tradition going. I wish Joe a speedy sale, and as a real estate agent, I'll be on the lookout for a buyer who will carry the tradition of All That Jazz into the future.
Then there's Tugboat Grill & Pub who escaped the 2008 demolition when the wrecking ball took down a good portion of the shops and restaurants on the north side of Ski Time Square to make room for a large redevelopment project since tabled in the economic downturn. Longtime, but not original owners, Hank Edwards and Larry Lamb, have sold the almost 4 decade old establishment to Steamboat resident, Jim Beatty. Beatty better not mess with the bar and grill also known for live music, dancing and as a museum of local sports memorabilia. But hey, Beatty already scored points by promising to add Guinness on tap in the near future. This might just be OK after all.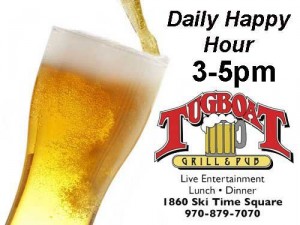 —For more information on real estate in Colorado or questions regarding Steamboat Springs real estate in Steamboat Springs, Colorado, feel free to call me at 970-846-6435 or write me an email at: charlie@steamboatsmyhome.com.Regards,
Charlie