No Cookie Cutter Pricing in Steamboat Springs Real Estate
As a recent article in the Wall Street Journal  pointed out, "It's not easy being a home builder these days." That's a logical conclusion to come by given that:
* Total home sales are at record lows
* Foreclosure prices are luring potential new-home buyers away
* People often can't qualify for loans despite low mortgage rates
Even Census Bureau data points to a 'New Normal' for new single-family home prices.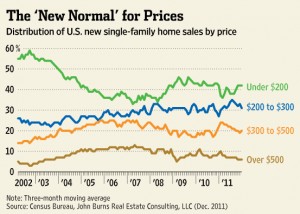 Rick Palacios, a senior analyst at John Burns Real Estate Consulting, pointed out that since new-home prices peaked in 2007, new single family sales of more than $500,000 have gone from 13% to 6% of the market. Sales of new homes priced under $300,000 now account for roughly 75% of all new single-family sales. Buyers want affordable homes and what people can afford on average has gone down.
Looking at 2011 existing home sales in Steamboat Springs, entry level price points dominate the share of sales. But be careful because these numbers can be misleading; most of these sales were comprised of condominiums and were in fact second or vacation homes, not primary residences. And yes, this data focused on existing, not new home sales. But affordable is affordable…new, old or in-between.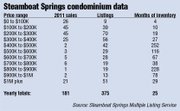 Yet as I've stated before, it's dangerous to generalize when talking about real estate. Even in condominium sales, bigger (and more expensive) can be better as I wrote about in the case of Edgemont, the premier slopes-side condominium development in Steamboat Springs, where all the 4 and 5 bedroom units are sold out as are 75% of the 3+ bedroom units. New condominium and townhome developments are in the works for the ski mountain area, and entry level, below $300,000 price points, are not in those plans.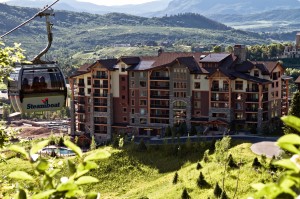 Real estate is indeed local, and while Steamboat Springs has had its share of foreclosure sales, there continues to be demand for luxury primary and secondary homes.