Real Estate in Steamboat Springs: Edgemont a Success through Crowd Sourcing
Let's say you have a real estate development that's slow to sell and you're wondering why.  For one reason or another the units are just sitting idle and not moving. Assuming your already discussing and actively working with price and marketing and the market is just not reacting. Time to try something different like crowdsourcing.  And if you're not looking outside the box today, you're stuck in the closet.
Crowdsourcing, or crowd sourcing, is a term that distributes problem solving among a group of people. By adding people to your effort, it become a collaboration of efforts to reignite and focus on the issue at hand.
Case in point:  Steamboat Springs, Colorado. Ski Town U.S.A.  A destination ski resort in in Northwest Colorado. We are suffering too in real estate values and transactions have been slow for 2-3 years.
And in those 2-3 years the development of Edgemont occurred.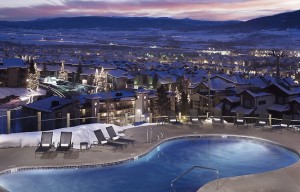 A wonderful, ski-in / ski-out premier condominium at the base of the Steamboat Ski area. Does not get any better.
Typical and yet traditional sales office. 1-3 sales staff on location. But little presence in the MLS and brokerage community. A rich marketing campaign that had every agent in town somewhat knowledgeable of the development, but that was it.
Problem – slow economy = slow sales
Solution – Crowdsourcing = exponential marketing
Edgemont offered 5 local, hard working real estate agents an open-listing to sell these residences. All 5 become Edgemont experts, broadcasted this knowledge to their peers, marketed this information as they saw fit, and generally ignited the real estate sales during a slower time in our community.
The results:  A now debt free development. An increase in sales. A continued innovated and collective marketing push forward, and all because of crowdsourcing and thinking outside the box.
The added advantage of marketing and selling real estate in Steamboat Springs with a group effort has proven to be a success. It's an ever evolving real estate resource that works for results.
—For more on this topic or questions regarding Steamboat Springs real estate in Steamboat Springs, Colorado, feel free to call Charlie at 970-846-6435 or write me an email at: charlie@steamboatsmyhome.com.
Thanks,
Charlie