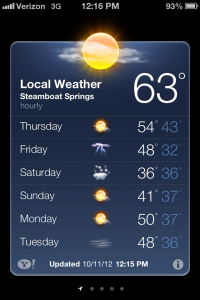 We really need snow here in Steamboat Springs. Any precipitation will do. Rain, snow, we'll take it. The ground is dry, the rivers are low, the reservoirs are low. What we need is a good old winter with tons of snow. We also need it because the bears are getting restlessand need to den up for the winter. See video below.
"Steamboat Springs — The slopes of the Steamboat Ski Area above 9,000 feet could see as much as 1 to 3 inches of snow overnight Friday into Saturday as a complicated, two-phase storm system takes over the weather in Colorado's northern mountains.
The National Weather Service in Grand Junction is forecasting a 70 percent chance of showers in Steamboat Springs on Friday night and Saturday with an overnight low of 28 degrees Fahrenheit, but little or no snow. The forecast is different above 9,700 feet on Mount Werner during the same period where the chance of precipitation will be 80 percent and the overnight low is expected to reach 22 degrees, producing snow that will at least temporarily stick to the ground.
The Weather Service reports that competing low pressure systems, the first a warmer front coming out of the Four Corners region, will influence weather on Colorado's Western Slope for the next couple of days. The first front will favor the central and southern mountains, but by Friday, colder winds will assert themselves at high elevation in the north.
The forecast for Steamboat Springs still calls for warm days, with temperatures expected to reach 70 on Thursday and 67 on Friday before the two storms sort themselves out. There also is a chance of thunder Friday night." Tom Ross – Steamboat Today.