Steamboat Springs, CO Real Estate Report
Routt County real estate saw strong activity in May: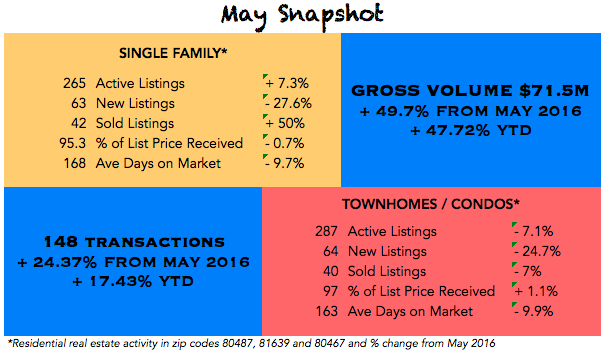 Here is a closer look at the 103 residential transactions that took place in May:
Residential Transaction Price Point Analysis May 2017

Price Point

# of transactions

% of transactions

Previous month % of transactions

% of gross volume

Previous month % of gross volume    

Under $500K

 63

61%

46%

30%

20%

$500,001 – $1M

 24

23%

36%

27%

32%

$1M – $3M

 15

15%

19%

36%

40%

Over $3M

 1

1%

2%

7%

8%
This chart notes single family and multi family residential sales. Not shown here are the 8 timeshare transactions, 27 land, 6 commercial and 4 miscellaneous transactions for a total of 148 transactions. There were 4 bank sales in May 2017.
Local activity remains busy and there is currently 221 pending sales. Absorption rates within Steamboat Springs (Mountain, Fish Creek & Downtown areas) are at 4 months for single family homes, 3.9 months for condominiums, and 3.8 months for townhomes: Overall a sellers market.
View Steamboat Springs Board of Realtors May market profile here
View full May 2017 Routt County market statistics here
National Real Estate Market
The latest S&P CoreLogic Case-Shiller U.S. National Home Price Index reported a 5.5% annual gain in April, down from 5.6% the previous month. Both the 10 City Composite and 20 City Composite figures showed a lower annual gain than the previous month, down 0.3% and 0.2% respectively.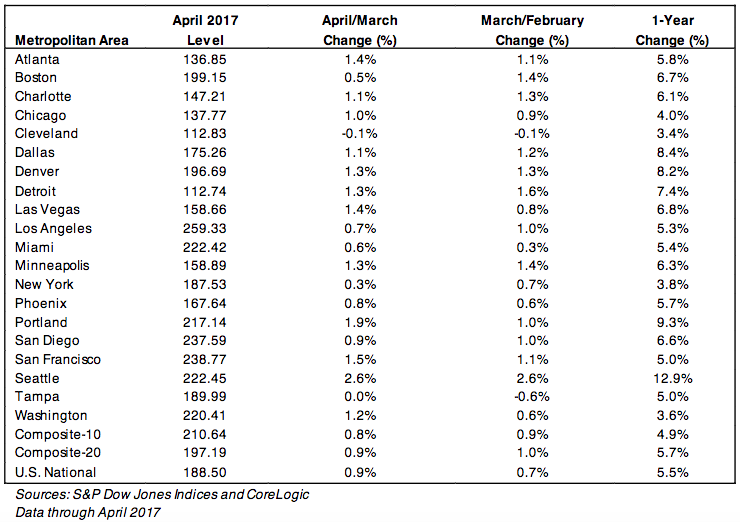 Could we be seeing a slow down? Well its unlikely right now. "Since demand is exceeding supply and financing is available, there is nothing right now to keep prices from going up" says David M. Blitzer Managing Director and Chairman of the Index Committee at S&P Dow Jones Indices. Adding to price pressures, mortgage rates remain close to 4% and affordability is not a significant issue. "The question is not if home prices can climb without any limit; they can't. Rather, will home price gains gently slow or will they crash and take the economy down with them? For the moment, conditions appear favorable for avoiding a crash. Housing starts are trending higher and rising prices may encourage some homeowners to sell. Moreover, mortgage default rates are low and household debt levels are manageable".
Charlie
Want to learn more about me?
Charlie Dresen
Real Estate Associate Broker |Sotheby's
Change Your Experience
970-846-6435 | SteamboatsMyHome.com
Charlie@SteamboatsMyHome.com