Steamboat Springs Real Estate Report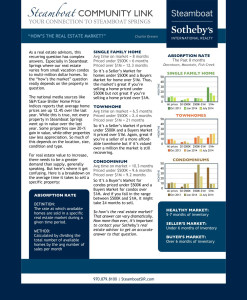 "How's the real estate market", is a common question real estate advisors get asked. In a complex market like Steamboat Springs where the real estate varies from small vacation condos to multi-million dollar homes the answer is, "it depends on the property in question."
I recently took some time to dive a little deeper into our diverse real estate market to answer this question. I summed up which properties and at what price point these properties are currently favoring buyer's and which are currently favoring seller's in the article How's the real estate market? written for the Steamboat Sotheby's International Realty newsletter.  
Local Steamboat Springs Market
Inventory is the highest we've seen since Nov. 2012. (1,754 listings) = Bad
Pending sales are the highest we've seen in over 5 years (158 pending sales) = Good
Bad / good / bad / good. And this trend continues.
Real estate transactions for June 2014 in Steamboat Springs, Colorado  were -20.69% lower than June of last year with $36.8M in sales and about -$20M less in sales compared to last month. While the number of transactions were up +3.7% over last June with 112 transactions, 75% of those were for properties under $500,000.
> 75% of transaction volume was under $500,000 (17% in May)
> 18% of transaction volume was between $500,001 – $1,000,000 (46% in May)
>  8% of transaction volume was over $1M (38% in May)
>   6 Bank sales
> YTD transactions are up +6.50%
> YTD dollar volume down -7.35%
June 2014 Routt County Real Estate Analysis
National Real Estate Market
The S&P Case-Shiller Home Price Index for May 2014 reported annual gains of +9.4% for the 10-City Composite and +9.3% for the 20-City Composite, down from the +10.8% and +10.9% returns reported last month. In the month of May, the 10- and 20-City Composites posted gains of +1.1%. For the second consecutive month, all twenty cities posted increases. Las Vegas remained the top performing city with a return of +16.9%, followed by San Francisco at +15.4%.
David M. Blitzer, Chairman of the Index Committee at S&P Dow Jones Indices, sums it up by saying, "Housing has been turning in mixed economic numbers in the last few months. Prices and sales of existing homes have shown improvement while construction and sales of new homes continue to lag. At the same time, the broader economy and especially employment are showing larger improvements and substantial gains."
S&P Case Schiller Home Price Indices – May 2014
With the continued improvement of the economy and the job market and low interests rates, I anticipate seeing continued improvements, albeit slow, in the housing market.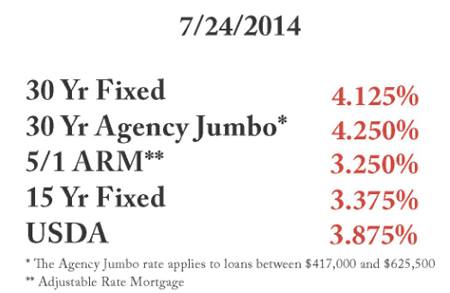 For questions about Steamboat's real estate market and the lifestyle we enjoy here, please ask me. I am passionate about my community and real estate. 
Regards,
Charlie
Want to learn more about me?
Charlie Dresen
Real Estate Associate Broker |Sotheby's
Local Knowledge | Global Exposure| Defining Service
970-846-6435 | SteamboatsMyHome.com
Charlie@SteamboatsMyHome.com