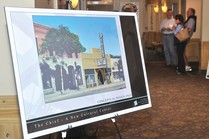 Local Non-Profit Group Closes on Purchase of Historic Chief Plaza Theater
A little while ago, I wrote a blog called Hope for Steamboat Springs Performing Arts Venue Still Alive.  Well, it looks a long-standing dream of the Steamboat Springs, Colorado Arts community has finally come true.   According to an article published Tuesday, October 2 by the Steamboat Today, Friends of the Chief closes on historic theater in downtown Steamboat, the Steamboat Springs based non-profit group was able to finalize it's long awaited purchase of the historic Chief Plaza Theater located in downtown Steamboat Springs, Colorado.
In the article, Friends of the Chief Board President Jim Cook said the immediate plan is to perform minor renovations to the theater in order to have it hosting events by Thanksgiving.  He said the wall between the two larger movie theaters would be torn down and a new stage will be built in what will be the main venue area.  The proceeds from the early event will go towards costs for the even larger renovation plans the Friends have in mind for the aging theater.
During a celebratory reception in the Chief Plaza Theater lobby on Tuesday, plans for the new building were displayed. Plans include returning the building's facade to a circa 1940s look.  Basement and balcony levels would also be added.

The Friends are seeking a U.S. Department of Agriculture grant as well as fundraising in order to raise the funds necessary to complete the planned multimillion dollar renovations needed to transform the theater into a state of the art downtown performing arts and music venue.
This is such an important moment for the arts in Steamboat Springs.  The theater will provide much needed performance and rehearsal space for local, regional and hopefully national acts and will be a healthy addition to a downtown business district which has seen tough times during the great recession.
Many congratulations to the Friends of the Chief on all of their hard work and perseverance.  I can't wait to see what they have in store for us!
Regards,
Charlie