Whether you've spent years vacationing in Steamboat Springs or decided to take a semester away from college to ski and never returned, you did it.  You decided to pack it all up and trade your "real" life for the promise of something better, a grand adventure, a life in Steamboat Springs, Colorado!  As the moving van pulls into the driveway and reality begins to set in, you may choose this moment to ask yourself, "What Now?"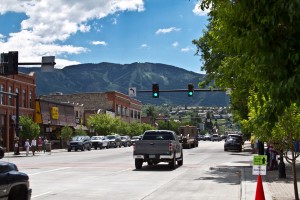 The reality of the situation is that unless you've just recently inherited a large sum of money, or Smartwool recruited you, you'll need to find a job.  There's no doubt that making ends meet in a resort town can be tough, but with a little luck and a lot of hard work, you can be successful.  Here are a few tips:
First and foremost, you should be prepared to make some compromises.  The truth is that opportunities for well-paying jobs are not nearly as abundant in a mountain resort town as they are in the city. While waiting for your dream job to appear in Steamboat Springs local paper, the Steamboat Today, you might need to find a couple of part-time jobs in order to pay the bills.  Consider this tiny inconvenience to be a great way to get acquainted with the town and the people you'll be sharing it with. You've got to start somewhere and by working at the coffee shop or one of the local boutiques, you'll get to see what Steamboat is really all about.
Another great way to get by is to go into business for yourself.  In a mountain town, there is always a niche that needs to be filled.  And locals love nothing more (besides a 27" powder day) than getting what they need from another local.  By calling upon your entrepreneurial spirit to begin a new business endeavor, you become a living, breathing part of this wonderful community, and while starting a new business is never easy, the rewards can be limitless.
Finally and perhaps most importantly, is to remember to have patience.  Success does not come overnight.  Check the classifieds, or Craigslist in the high rockies regularly and keep your eyes and ears open.  Sometimes in a small town it really does come down to who you know, so get out there and meet some people.  With time, everything tends to fall into place and more likely than not, this abundant valley has a place for you.