Steamboat Springs, CO Real Estate Report
As 2017 begins and we reflect on the year that was, we can say that 2016 was a good year for real estate in Routt County. However the November figures were a little unexpected as you'll see below.
Routt County Real Estate Market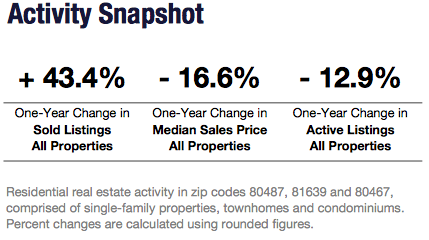 The Steamboat Springs Board of Realtors November 2016 Monthly Report provides us with a great snapshot of the Steamboat Springs residential market. Some key market figures for both single family homes (SF) and condo / townhomes (C/T):
– YTD new listings +9.3% SF, +2.4 C/T
– YTD pending sales +12.5 SF, +9.2 C/T
– YTD sold +14.2 SF, +8.7 C/T
– YTD median sales price +13.1 SF, +3.1 C/T
– YTD active listings -6.3 SF, -20.5 C/T
New listings to the market are up yet active listings are down. This coupled with the a significant drop in YTD days on market shows just how tight housing inventory is in Routt County.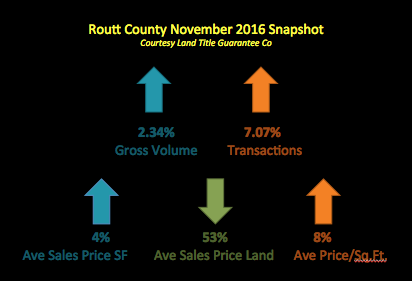 November in Routt County saw 123 Sales Transactions, down -16.3% from last November with YTD at +7.7%.  Gross Volume was $52.9M, down -18.06% from last November with YTD at +2.3%.  At first glance this makes November 2016 look somewhat depressed. But in reality, it was a solid month. In November 2015 there was a single sale of $12M recorded which does significantly skew the figures. If we were to compare month to month without that single sale, then Gross Volume for Nov 2016 is on par with Nov 2015, and YTD at closer to +4.5%.

Residential Transaction Price Point Analysis November 2016

Price Point

# of transactions

% of transactions

Previous month % of transactions

% of gross volume

Previous month % of gross volume    

Under $500K

 53

62 %

59%

 33%

30%

$500,001 – $1M

 24

29 %

29%

 34%

37%

$1M – $3M

 7

8%

12%

 24%

33%

Over $3M

 1

1%

0%

9%

0%
This chart notes single family and multi family residential sales, 85 total transactions for the month of November. Not shown here are the 15 timeshare transactions, 14 land, 5 commercial and 4 miscellaneous transactions for a total of 123 transactions. There were 3 bank sales in November 2016.
View full November 2016 Routt County market statistics here
National Real Estate Market
The latest S&P Dow Jones Indices report tells us that U.S. home prices are now teetering at 2006 pricing levels, aka unaffordable for the majority. The national index shows home prices are currently 0.2% higher than the peak pricing period of 2006. The S&P Case-Shiller U.S. National Home Price Index reported a 5.6% annual gain in October, up from 5.4% last month. Once again Seattle (+10.7%), Portland (+10.3%) and Denver (+8.3%) posted the highest year-over-year gains, while New York (+1.7%) showed the slowest gains.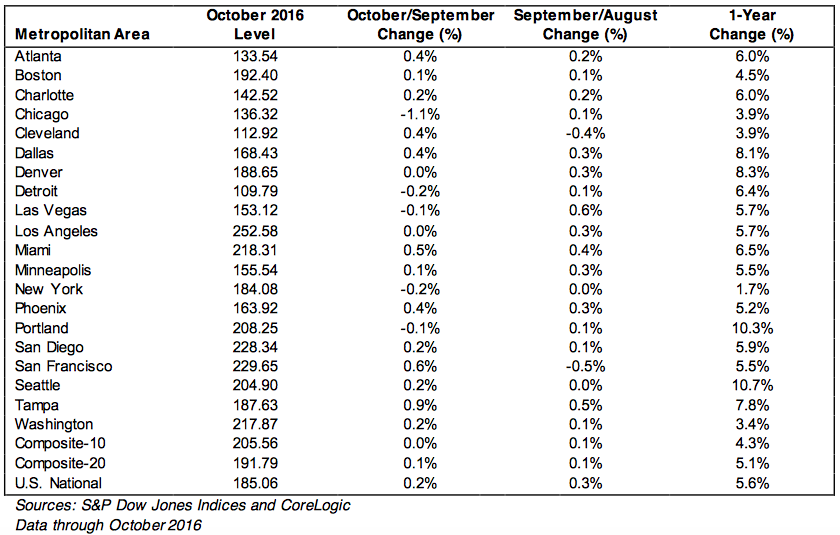 "Home prices and the economy are both enjoying robust numbers," says David M. Blitzer, Managing Director & Chairman of the Index Committee at S&P Dow Jones Indices. "However , mortgage interest rates rose in November and are expected to rise further as home prices continue to out – pace gains in wages and personal income. Affordability measures based on median incomes, home prices and mortgage rates show declines of 20-30% since home prices bottomed in 2012. With the current high consumer confidence numbers and low unemployment rate, affordability trends do not suggest an immediate reversal in home price trends. Nevertheless, home prices cannot rise faster than incomes and inflation indefinitely."
Regards,
Charlie
Want to learn more about me?
Charlie Dresen
Real Estate Associate Broker |Sotheby's
Change Your Experience
970-846-6435 | SteamboatsMyHome.com
Charlie@SteamboatsMyHome.com