Steamboat Springs, CO Real Estate Report
The snow is melting, the sun is shining and the local real estate market is starting to bloom!
Routt County Real Estate Market 
February 2017 was a great period for the local real estate market.  Gross volume was $46.6M, up 41.29% compared to last February, and there were 103 transactions, up by 63.49% from the same period last year. Year to date this puts 2017 gross volume up 31.74% and transactions up 29.29%. Let us have a look at what happened in February: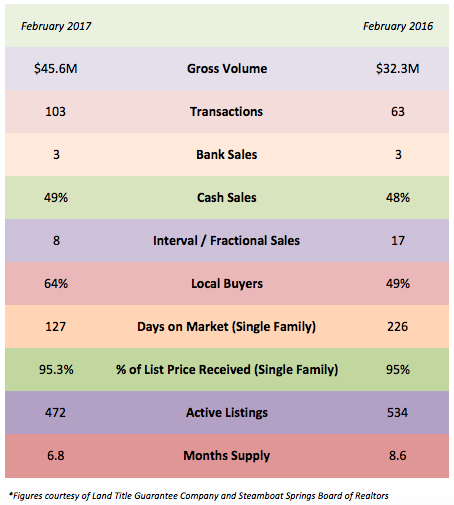 As we enter Spring we have already seen a jump in the number of new listings to the market and we can expect that this will continue to rise. However based on the demand that we are seeing, the number of active listings may not actually increase as properties are not staying as long on the market as they were this time last year. Pending transactions as of April 6th is 189! The market is fairly balanced right now with the months supply just over 6 months (see what this means here). It is important to note that the above figures are just a snapshot and there is considerable variation depending on property type, location and price point.

Residential Transaction Price Point Analysis February 2017

Price Point

# of transactions

% of transactions

Previous month % of transactions

% of gross volume

Previous month % of gross volume    

Under $500K

 30

55%

66%

19%

37%

$500,001 – $1M

 16

30%

21%

30%

29%

$1M – $3M

 7

13%

13%

28%

34%

Over $3M

 1

2%

0%

23%

0%
This chart notes single family and multi family residential sales, 54 total transactions for the month of February. Not shown here are the 8 timeshare transactions, 16 land, 17 commercial and 8 miscellaneous transactions for a total of 103 transactions. There were 3 bank sales in February 2017.
View Steamboat Springs Board of Realtors February market profile here
View full February 2017 Routt County market statistics here
National Real Estate Market
The upward national price trend that began in first quarter 2012 continues… The latest S&P CoreLogic Case-Shiller U.S. National Home Price Index reported a 5.9% annual gain in January, up from 5.7% the previous month. David M. Blitzer, Managing Director and Chairman of the Index Committee at S&P Dow Jones Indices says "Housing and home prices continue on a generally positive upward trend." He goes on to note that a mortgage rate rise of less than a quarter percent is expected in the near future however "given the market's current strength and the economy, the small increase in interest rates isn't expected to dampen home buying. If we see three or four additional increases this year, rising mortgage rates could become concern."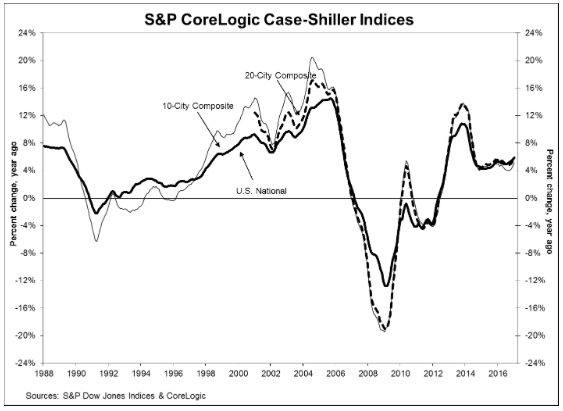 Charlie
Want to learn more about me?
Charlie Dresen
Real Estate Associate Broker |Sotheby's
Change Your Experience
970-846-6435 | SteamboatsMyHome.com
Charlie@SteamboatsMyHome.com