Steamboat Springs, CO Real Estate Report
As many of you know there has been a lot of buzz around the recent acquisition of the Steamboat Ski Area by Aspen Skiing Company and KSL Partners. And now that the the dust has settled a little, many of you are probably wondering what this might mean for the real estate market here in Steamboat Springs. My thoughts on the subject are that this is a positive step for the future of the community. The esteemed new owners will almost certainly have a positive impact on improvements and development in and around the base area. Real estate, especially that which focuses on second home and holiday investors, should see some growth as buyer confidence rises. This may have been the nudge that on the fence buyers were looking for. However Steamboat Springs is a destination town and growth is largely limited by employment. The sale of the Steamboat Ski Area does not directly bring jobs to our valley. For this reason it is unlikely to have a direct impact on primary residences.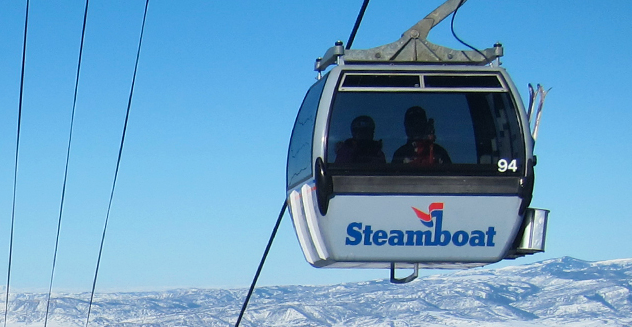 Routt County Real Estate Market 
March 2017 was another great month for the local real estate market.  Gross volume was $61M, up 95.05% compared to last March, and there were 112 transactions, up by 30.23% from the same period last year. The Median Sales Price during March was up $655,000 for single family homes, up 63.1% from March 2016,  and $475,000 for townhouse-condo properties, up 69.9%. Days on Market decreased 32.5% for single family homes but increased 13.6% for condo properties. Pending sales transaction figures are hovering around 200 properties which is encouraging and this should be further stimulated by the influx of new properties to the market this spring.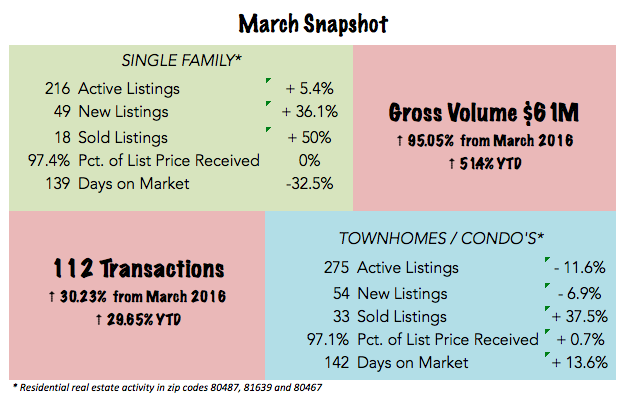 Here is a closer look at the 64 residential transactions that took place in March:

Residential Transaction Price Point Analysis March 2017

Price Point

# of transactions

% of transactions

Previous month % of transactions

% of gross volume

Previous month % of gross volume    

Under $500K

 24

38%

55%

17%

19%

$500,001 – $1M

 29

46%

30%

43%

30%

$1M – $3M

 11

17%

13%

40%

28%

Over $3M

 0

0%

2%

0%

23%
This chart notes single family and multi family residential sales. Not shown here are the 11 timeshare transactions, 22 land, 9 commercial and 6 miscellaneous transactions for a total of 112 transactions. There were 2 bank sales in March 2017.
View Steamboat Springs Board of Realtors March market profile here
View full March 2017 Routt County market statistics here
National Real Estate Market
The latest S&P CoreLogic Case-Shiller U.S. National Home Price Index reported a 5.8% annual gain in February, up from 5.6% the previous month – a higher increase than anticipated and the highest gains in almost 3 years. David M. Blitzer, Managing Director and Chairman of the Index Committee at S&P Dow Jones Indices says one of the biggest drivers of price growth has been the low housing supply, currently 3.8 months of inventory, against steady demand. Blitzer also notes "Housing affordability has declined since 2012 as the pressure of higher prices has been a larger factor than stable to lower mortgage rates."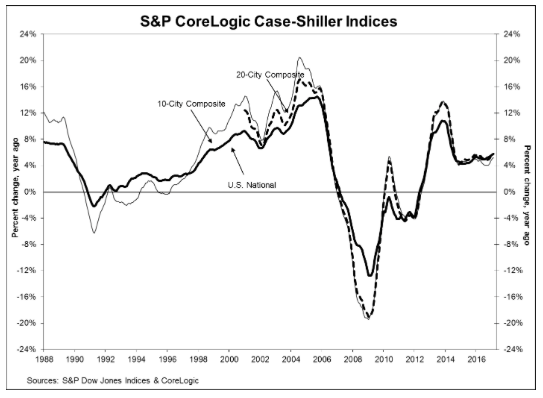 Can these gains continue indefinitely? Zillow Chief Economist Svenja Gudell doesn't think.  Gudell comments "The 2017 spring home shopping season has started off with a bang, and at this point the strength of the market shouldn't come as much of a surprise. February Case-Shiller numbers point to more fierce competition in the housing market." Gudell continues to note that "The thing to watch for now is when market conditions will shift, and change does seem to loom on the horizon, with rising mortgage interest rates and flattening rents. Both could put a dent in home-buyer demand and overall price growth and affordability."
Charlie
Want to learn more about me?
Charlie Dresen
Real Estate Associate Broker |Sotheby's
Change Your Experience
970-846-6435 | SteamboatsMyHome.com
Charlie@SteamboatsMyHome.com