Steamboat Springs, CO Real Estate Report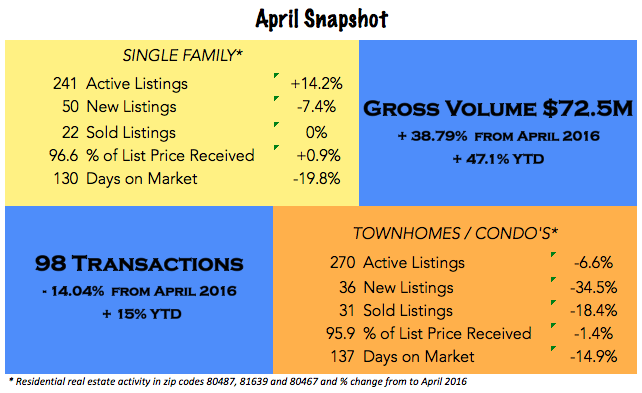 Routt County real estate had a solid activity in April. Gross volume was $72.5M, +38.79% compared to last April, with YTD at +47.10%.  It's important to note however, the transfer of a hangar at Yampa Valley Airport for $21.9M impacted the GV significantly. If we remove that transaction from our figures, April 2017 is mostly consistent with April 2016 Gross Volume.  There were a total of 98 transactions: -14.04% from April last year and +15% YTD.
Here is a closer look at the 64 residential transactions that took place in April:

Residential Transaction Price Point Analysis April 2017

Price Point

# of transactions

% of transactions

Previous month % of transactions

% of gross volume

Previous month % of gross volume    

Under $500K

 27

46%

38%

20%

17%

$500,001 – $1M

 21

36%

46%

32%

43%

$1M – $3M

 11

19%

17%

40%

40%

Over $3M

 1

2%

0%

8%

0%
This chart notes single family and multi family residential sales. Not shown here are the 14 timeshare transactions, 20 land, 1 commercial and 3 miscellaneous transactions for a total of 98 transactions. There were no bank sales in April 2017.
There is currently 214 pending transactions and buyer demand has not diminished. And as prices continue to rise in this period of strong demand, we are certainly seeing affordability issues for some buyers, particularly first-time buyers and middle class families dreaming of a single family home. As we saw back in the mid 2000's, we are seeing price restricted buyers driven out of the Steamboat market to outlying towns and communities such as Hayden, North Routt, Oak Creek and Stagecoach.
View Steamboat Springs Board of Realtors April market profile here
View Steamboat Sothebys Residential Sales Barometer here
View full April 2017 Routt County market statistics here
National Real Estate Market
Home prices jumped nearly 6% in March! The latest S&P CoreLogic Case-Shiller U.S. National Home Price Index reported a nationwide 5.8% annual gain in March, up from 5.7% the previous month. What we are seeing is "the fastest pace in almost three years," says David M. Blitzer, Managing Director and Chairman of the Index Committee at S&P Dow Jones Indices. "Over the last year, analysts suggested that one factor pushing prices higher was the unusually low inventory of homes for sale. People are staying in their homes longer rather than selling and trading up. If mortgage rates, currently near 4%, rise further, this could deter more people from selling and keep pressure on inventories and prices." Blitzed continues to note.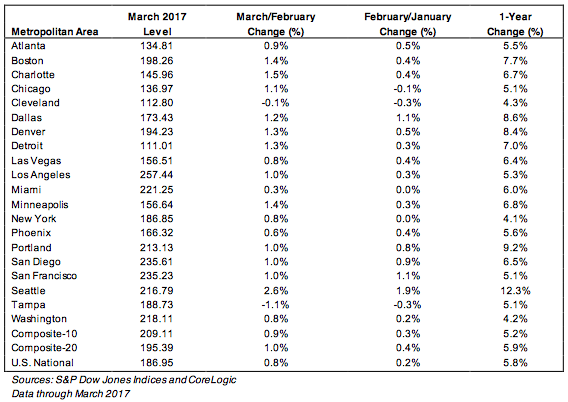 The National Association of Realtors (NAR) reported that April 2017 existing home sales fell 2.3% from March's figures. Nationwide  52% of homes sold in April were on the market for less than a month. "Last month's dip in closings was somewhat expected given that there was such a strong sales increase in March at 4.2%, and new and existing inventory is not keeping up with the fast pace homes are coming off the market," said Lawrence Yun, NAR's chief economist, in a statement. "Demand is easily outstripping supply in most of the country and it's stymieing many prospective buyers from finding a home to purchase.Homes in the lower- and mid-market price range are hard to find in most markets, and when one is listed for sale, interest is immediate and multiple offers are nudging the eventual sales prices higher."
How much longer can this continue? Hard to say, but from our view there is no end in sight at this time.
Regards,
Charlie
Want to learn more about me?
Charlie Dresen
Real Estate Associate Broker |Sotheby's
Change Your Experience
970-846-6435 | SteamboatsMyHome.com
Charlie@SteamboatsMyHome.com