Steamboat Springs, CO Real Estate Report
April has been a month with many facets.  Sun, snow, hail, and wind in no particular order. The ski area closed, the schools went on spring break, and many of the locals headed for warmer destinations to defrost. But every year the mud season gets a little shorter, at least visitor and event wise, even if not weather wise!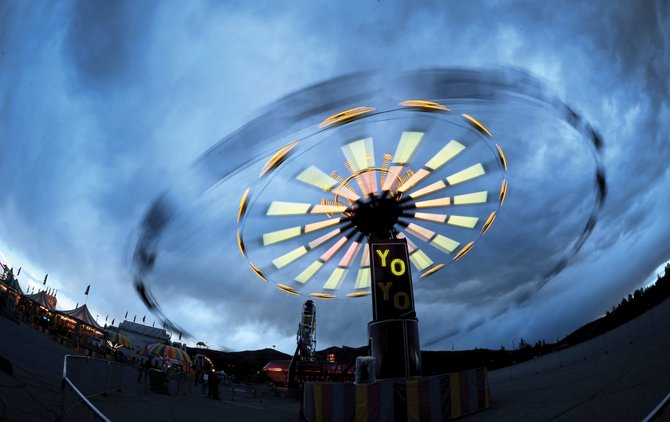 If you are in town during May check out the Steamboat Springs Chamber Resort Association's calendar of events to see whats happening. Definitely don't miss the Spring Into Summer Carnival which runs May 19th to 21st. In its 8th year, this annual event is a fundraiser for the Steamboat Springs Middle School. There is no charge to enter but you pay for the rides and games.
Routt County Real Estate Analysis
Gross sales for March totaled $31.3M, down -25.17% compared to March 2015.  This comprised of 86 transactions, an decrease of -21.1% compared to last March. Even though this might indicate sales are a little slower at the moment, it really isn't the case. There are currently 202 PENDING SALES right now! We haven't seen pending figures this high for several years which is a good sign for the Routt County real estate market. Inventory is very low for single family homes and townhomes priced under $1 million.

Residential Transaction Price Point Analysis March 2016

Price Point

# of transactions

% of transactions

Previous month % of transactions

% of gross volume

Previous month % of gross volume    

Under $500K

38

73%

59%

43%

19%

$500,001 – $1M

9

17%

17%

27%

17%

$1M – $3M

5

10%

17%

30%

30%

Over $3M

0

0%

7%

0%

34%
This chart notes single family and multi family residential sales, 52 total transactions for the month of March. Not shown here are the 15 timeshare transactions, 12 land, 4 commercial and 3 miscellaneous transactions for a total of 86 transactions. There were 4 bank sales for the month.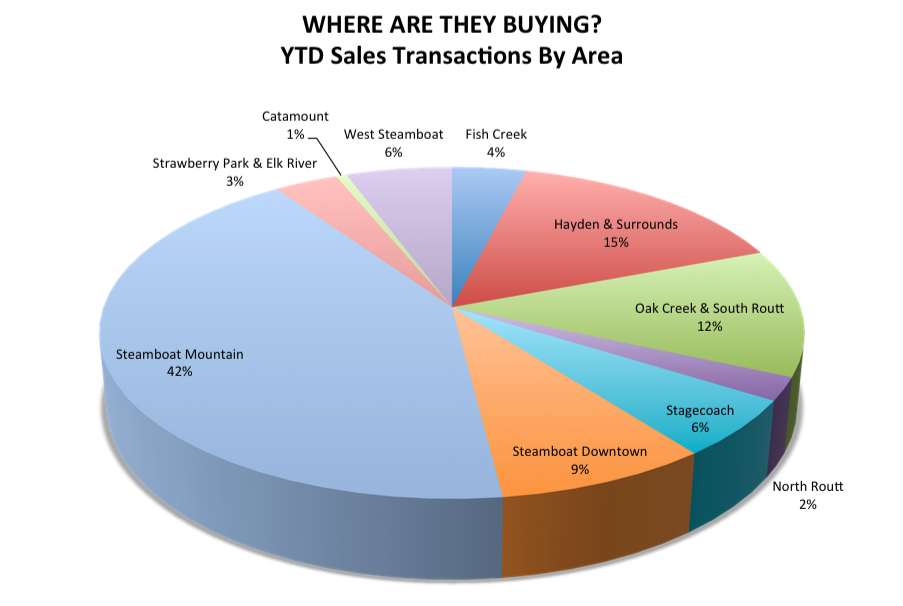 View full March 2016 Routt County market statistics here
National Real Estate Market
The just released February 2016 S&P Case-Shiller Home Price Index, showed that home prices continue to rise, albeit at a slower pace. David M. Blitzer, Managing Director and Chairman of the Index Committee at S&P Dow Jones Indices says "The year- over-year figures for the 10-City and 20-City Composites both slowed and 13 of the 20 cities saw slower year-over- year numbers compared to last month."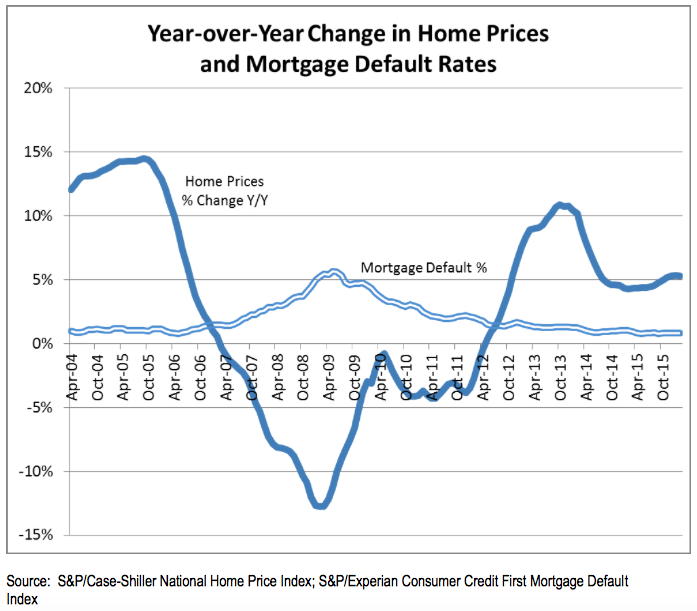 Another indicator of market health is the default rate on mortgages. The above chart shows the rates of default in comparison to  home price changes over the past decade. Fewer defaults reflects a healthier market and as you can see the trend continues to decline. Click here for the full national report.
Regards,
Charlie
Want to learn more about me?
Charlie Dresen
Real Estate Associate Broker |Sotheby's
Change Your Experience
970-846-6435 | SteamboatsMyHome.com
Charlie@SteamboatsMyHome.com