Steamboat Springs Real Estate Report
Happy New Year! I hope that your holidays were joyous and the new year prosperous.
As we head into 2015, let's talk real estate and absorption rate. This is the rate at which available properties are sold in a specific real estate market during a given time period. As you see, for most of our market, we are seeing good improvements.  Keep in mind, a normal healthy real estate market has about 6 months of inventory. More than 6 months is a "buyers market" and less than 6 months is a "sellers market."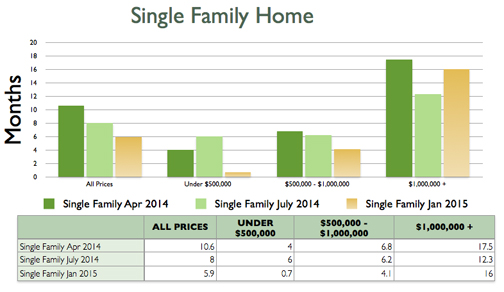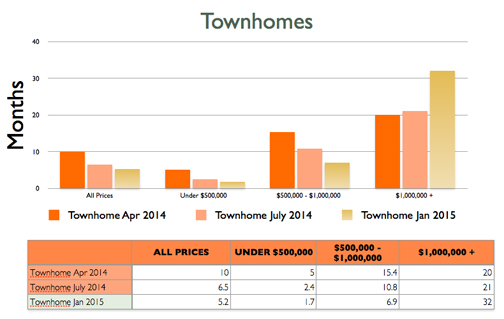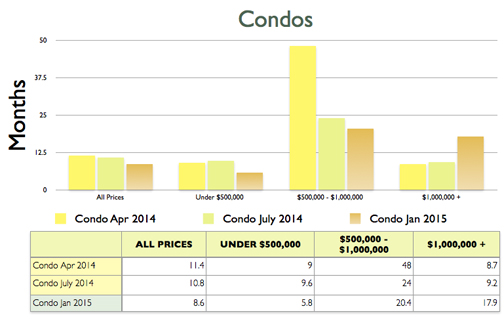 Local Steamboat Springs Market
November was a decent month for Routt County real estate transactions with $41.4M in gross sales and 106 transactions.  While this is down from what we've seen over the past few months, it is still good for this time of year and the best November we have seen since 2009.
Compared to November 2013, total gross volume was up +25.3% and transactions were slightly down -0.93%. Year-to-date gross dollar volume is up +15.09% and number of transactions are up +6.08% for the year.
> 35% of transaction volume was under $500,000 (56% in October)
> 41% of transaction volume was between $500,001 – $1,000,000 (31% in October)
>  24% of transaction volume was over $1M – $3M (12% in October)
>  0% of transaction volume was over $3M (1% in October)
>  5 bank sales
> YTD dollar volume is up +25.3%
> YTD transactions are down -0.93%
November 2014 Routt County Real Estate Analysis by Land Title
National Real Estate Market
The S&P Case-Shiller Home Price Index for October 2014 reported continued slowdown of home price increases across the country, although eight cities saw prices rise faster. The national index, which covers all 9 census divisions, recorded a +4.6% annual gain in October 2014 while the 10-City Composite and 20-City Composites recorded an +4.4% and +4.5%increase over October 2013.
Managing Director and Chairman of the Index Committee at S&P Dow Jones Indices, David M.
Blitzer, states, "After a long period when home prices rose, but at a slower pace with each passing month, we are seeing hints that prices could end 2014 on a strong note and accelerate into 2015. Two months ago, all 20 cities were experiencing weakening annual price increases. Last month, 18 experienced weakness. This time, 12 cities had weaker annual price growth, but eight saw the pace of price gains pick up. Seasonally adjusted, all 20 cities had higher prices than a month ago."
S&P Case-Shiller National Home Price Index – October 2014
For questions about Steamboat's real estate market and the Steamboat lifestyle, please ask me. I am passionate about my community and real estate. Search all homes, townhomes and condos here.
Regards,
Charlie
Want to learn more about me?
Charlie Dresen
Real Estate Associate Broker |Sotheby's
Local Knowledge | Global Exposure| Defining Service
970-846-6435 | SteamboatsMyHome.com
Charlie@SteamboatsMyHome.com